Tags
70s, Banana Republic, belted shirt, braided hair, business casual, cardigan, checkered shirt, city, coral, country, dance, denim, Diesel, jeans, layered, navy blazer, orange, outfit, over-sized, red, Target, thrifted, vintage, wide-legged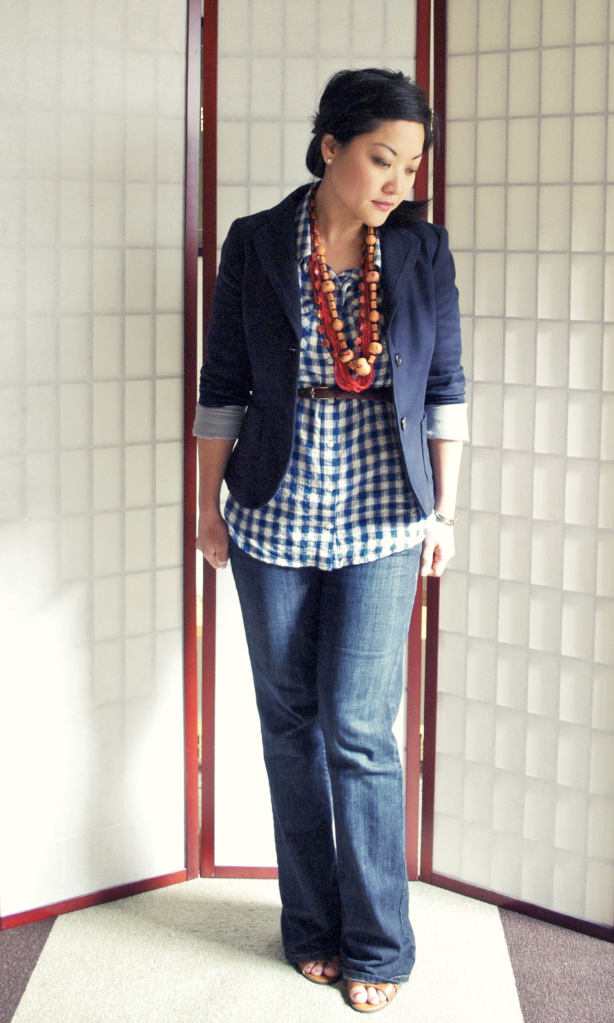 Blue Checker Shirt – Target, Navy Blazer – Banana Republic, Coral Sweater Coat – Thrifted, Jeans – !iT Jeans, Heels – BCBG, Necklaces – Cost Plus and Various Thrifted , Fakey Diamond Stud Earrings – F21, Belts – Vintage Thrifted

I'm a big fan of dressing up casual pieces, like my jeans (and based on my blog entries thus far, you'd realize that denim is my second skin). I wore the navy blazer again, with flared jeans (these are darker wash than they appear in photos) and checkered button up for a country meets city look (business casual). Then to add contrast to all the blue, went with my favorite complimentary color, and piled on necklaces in shades of orange. Couldn't resist layering on a recent thrifted, coral, oversized sweater as a coat because it was a bit chilly out. Can't begin to tell you how much I swoon over this color and the knit patterning on this sweater makes my heart sing.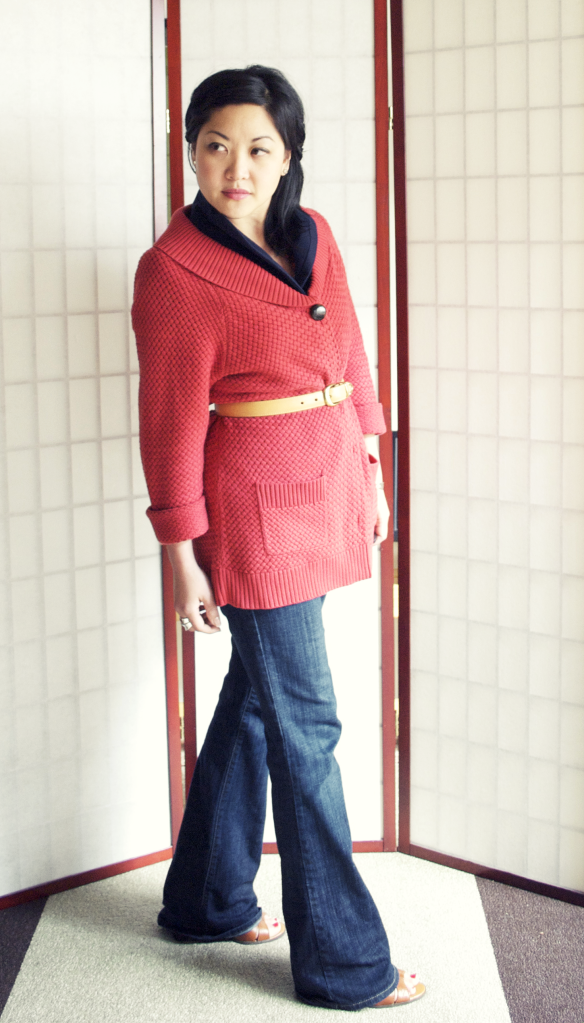 While my outfit isn't anything out of the ordinary for me, what made me feel special was how I did my hair and how much I enjoyed this braided look. You see, I have been growing out my hair (the last time was 5 years ago for my wedding). Normally, I sport a short, chin-length do in various cuts, but have been crazy over the braided and messy up-dos in editorials and blogs of late. As my hair continues to grow, I have formed a love-hate relationship with it. Often, not knowing what to do with my thick hair, but somehow, I've been inspired and really getting into styling it. When I have time. Short hair practically styles itself, which is why I prefer it. I made a couple of small braids on one side and one braid on the other and pinned them in the back, after I back combed some of the hair on my crown for lift. I thought my whole look with the wide-legged jeans was a throw back to the 70s, but fresh.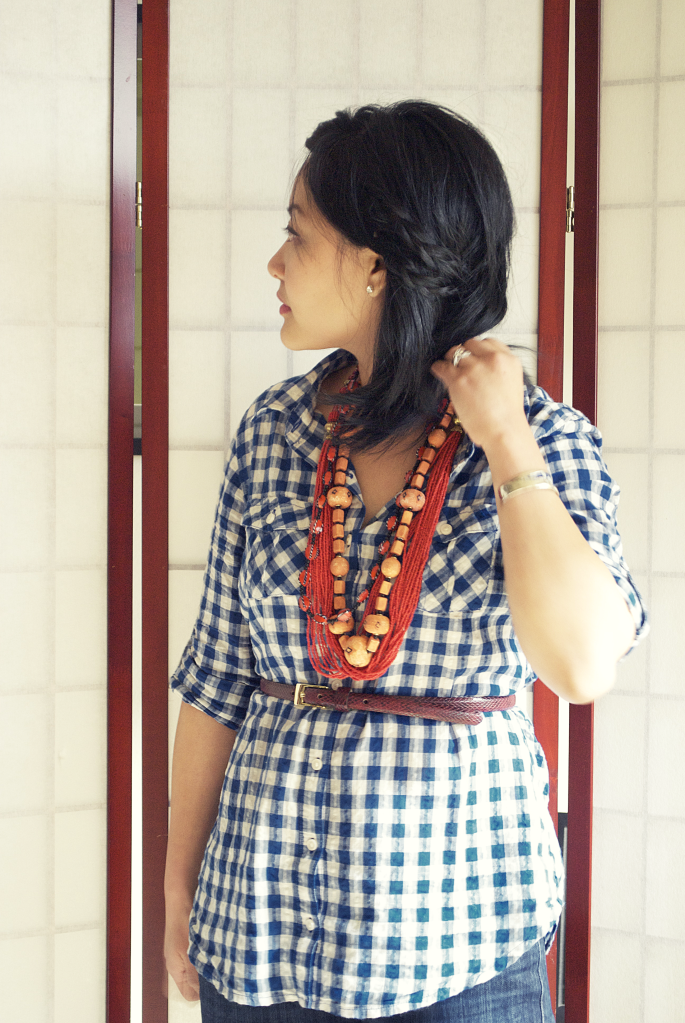 I wore this to an informal (and long) lunch meeting downtown with a Client and an Account Exec at a local spirits magazine. We met at Higgins, which is one of the finest dining establishments in town. The food is impeccable. Feeling pretty damn good because I had the most wonderful, melt-in-your-mouth halibut and buttery soft mashed potatoes with spring veggies–and it was not at my own expense. What a wonderful treat! Not only was it a fun group of folks to spend a few hours with, I took the MAX train downtown and walked several blocks to the restaurant.
I love downtown Portland. It's a beautiful city and having recently returned from a 3 year stint in Eugene, small college town, I have a renewed appreciation for this little, big city o' mine. There's so much life here and I love seeing all the people out and about, especially during the five minutes in between torrential downpours. Seriously, people, what is the deal with this raining cats and dogs– sideways. If you're visiting for the first time or haven't been to Portland much, like my Client, I feel badly because, while it does rain often, it's not always dumping buckets.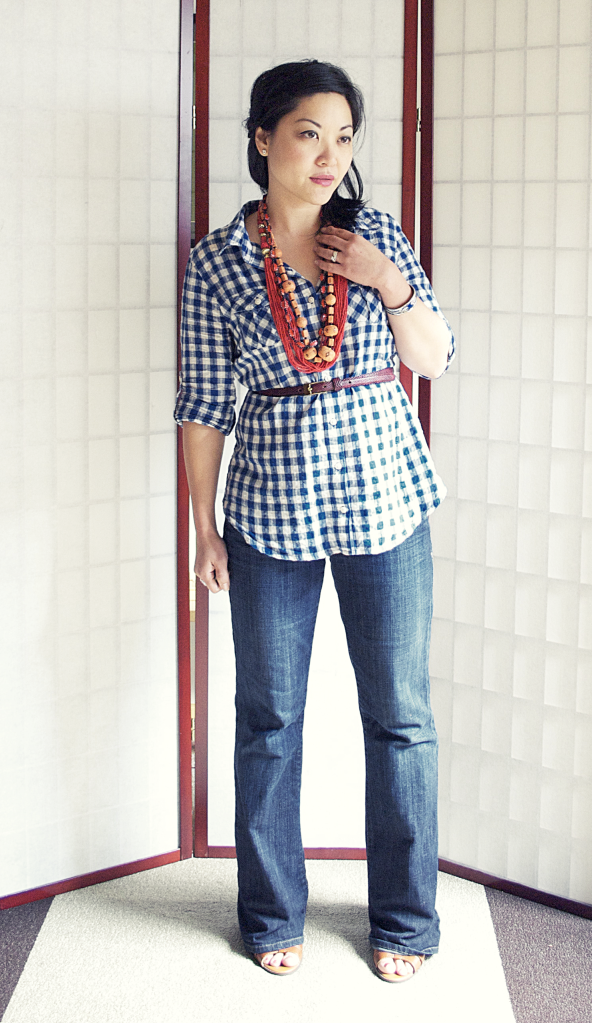 Anyway, I do actually enjoy the Oregon weather, but enough already! Today, I won't let you rain on my parade. I savor these few hours to be a professional and not a mom. Don't get me wrong, I love being a mother, but sometimes it's good to be just a girl. These rare moments, makes me wanna move my feet, you know what I'm sayin'? Here I am goofin' off as usual. Like I said in my last post, I've got some crazy good moves. Do you like that blurry number at the end of the loop? Don't try this at home, folks. No, I take that back, dance if you feel like it!
The second half of my day was spent being mommy, so I switched to these red Diesel sneakers that I've had for a few years now. Bought them at TJ Maxx on clearance for $10–they were my size and the only pair. STEAL. Finding unique items like this is what I normally go for at big discount stores such as Marshall's, TJ Maxx and Nordstrom's Rack. These stores obviously have multiple of things, but I enjoy the hunt for one-offs.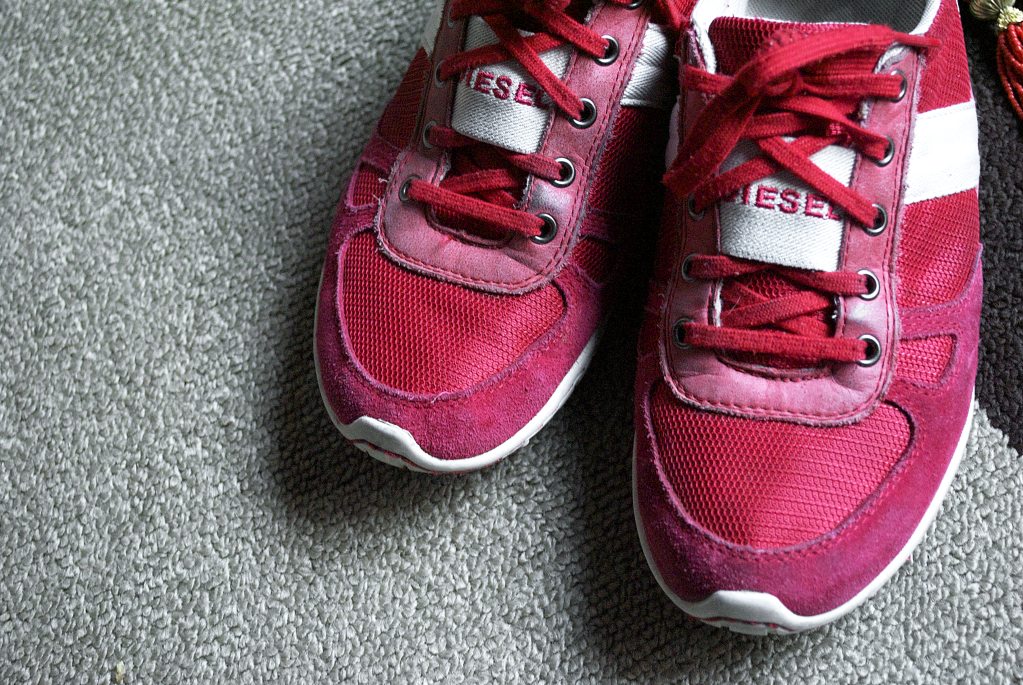 What's something in your closet that was a unique find after searching all the racks in a store?