Tags
beads, bohemian, color blocking, colorful, coral, costume, crepe skirt, dance, fuschia, gypsy, orange, outfit, turquoise, vintage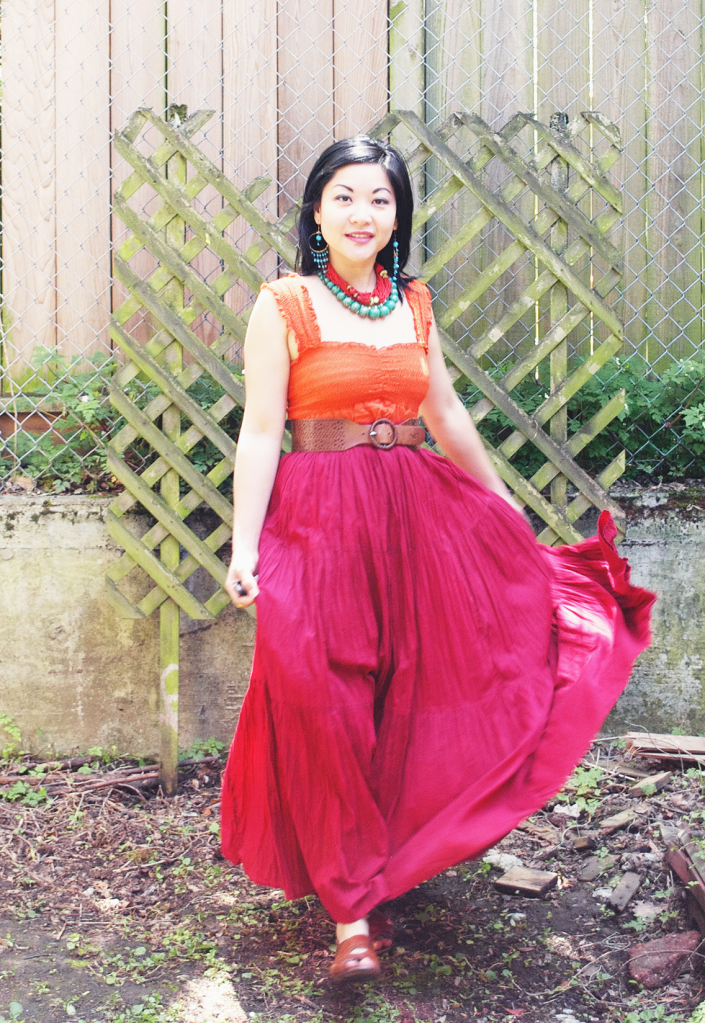 Occasion: Work Day

Orange Dress worn as Top – Urban Outfitters, Fuschia Crepe Skirt – Vintage thrifted, Coral Cardigan – Victoria's Secret thrifted, Belt – Abercrombie, Sandals – Vintage, Necklaces – Cost Plus World Market, Earrings – Target
I have a confession to make. I love color. As a graphic designer, I work with color everyday. It's a key element to distinguishing identity in corporate branding and advertising(think red and Coca-Cola or pink and Cancer Awareness). However, when it comes to wearing color–I AM AFRAID. It's completely ridiculous, I know. If I were to brand myself, I would be the color orange, as that's how I generally feel–positive, energetic and happy. So I should express this outwardly by wearing orange, right? Not so much.
Colorful items sing to me at the store and I take them home, but these items often never see the light of day. They don't go unnoticed, for I admire them daily, hanging in my closet and even try them on in various combinations. We do a little dance as I twist and turn in front of the mirror with confusion. Only to rip them off out of frustration, tossing them into a pile. If I do wear color, I tend to tone it down with something neutral. It's safe and I feel good, which is definitely important. However, there's another side of me that wants to be a rainbow!
Color blocking has been a hot topic of late. I'm envious of all these lovely women, lookin' good wearing color from head to toe and I desperately want to be as bold as they are. I've been quite inspired and today is the day I boldly go where I've rarely gone before. Afterall, it's one of the reasons I started a blog–to break out of my comfort zone and try different things.
Orange, Fuschia, Red, Blue, Green… here we go. And it sure is GLORIOUS!
It's a perfect 70 degree day in Oregon and inspired by the sunshine, as well as, recent episodes of America's Next Top Model featuring gypsy caravans in Morocco, I decided to channel my inner gypsy and came up with this outfit. Several colorful necklaces later, hair down, skirt blowing in the wind, sun on my skin… I feel amazing. At least for the next several hours, while I've got the nanny hanging with the little guy, I'm off mommy duty and can just be a girl in my fancy skirt with my fancy baubles doing my fancy graphic design thing. Can you tell, I also really enjoyed this photo session?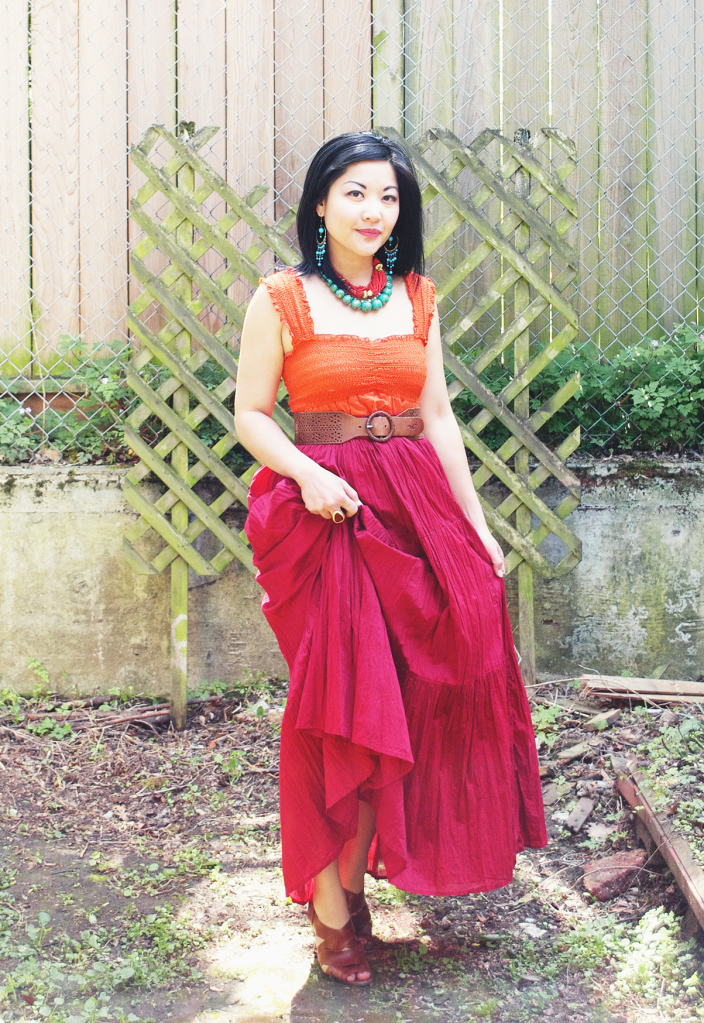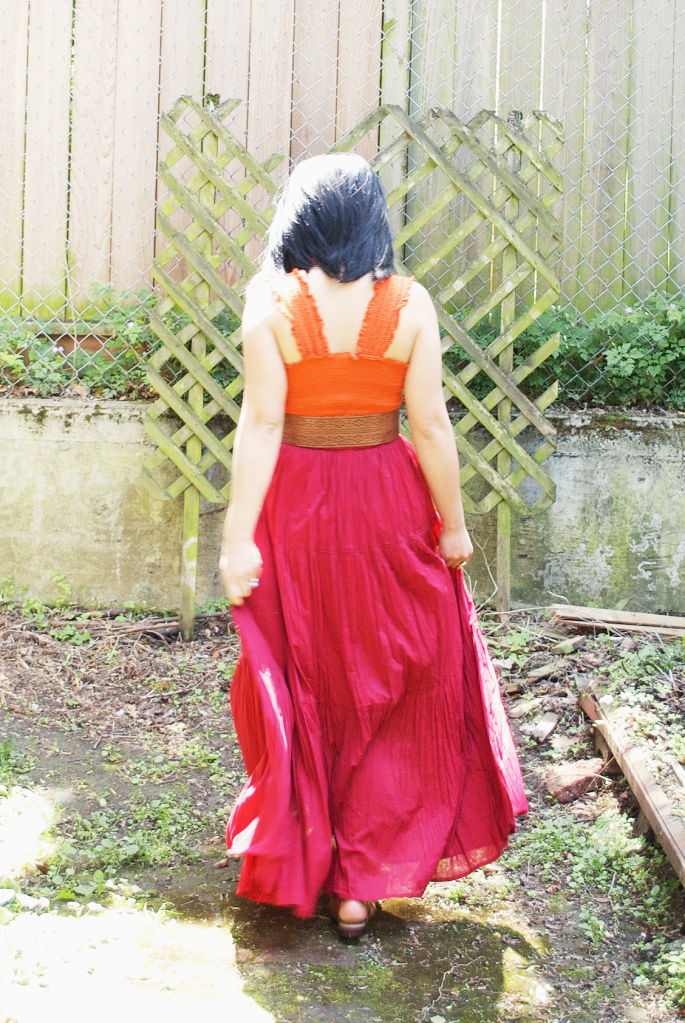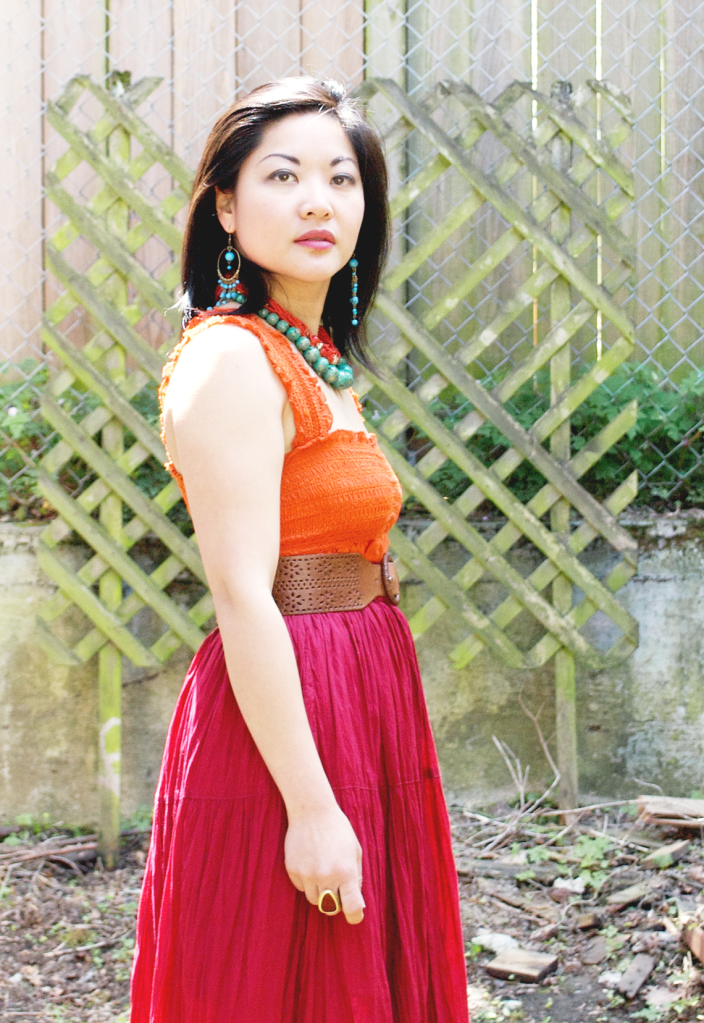 This is my serious model face.
What's your inner color?