Tags
Ann Taylor, beaded, belted shirt, braided hair, candy, cardigan, champagne, coffee, color, green, J Crew, jordan almonds, layered, leggings, Loft, loose bun, necklace, necklace as bracelet, nerd glasses, neutral, outfit, pattern, skinny pant, spring, suede pumps, thrifted, Urban Outfitters, wedding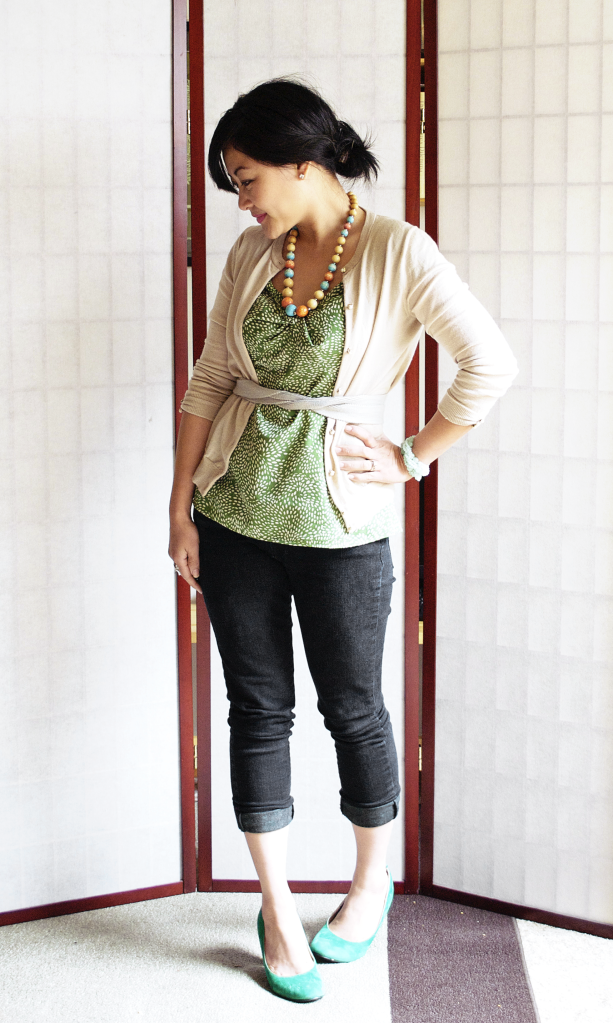 Green Patterned Blouse – Loft, Champagne Cardigan – J Crew, Knit Belt (from a different sweater), Charcoal Skinny Pants (Scrunched at Knees for Texture)- Macy's, Green Suede Pumps – Urban Outfitters, Black Flats – Report, Multi-Colored Beaded Necklace – thrifted, Mint Glass Beaded Necklace (worn as bracelet) – thrifted, Nerd Glasses – F21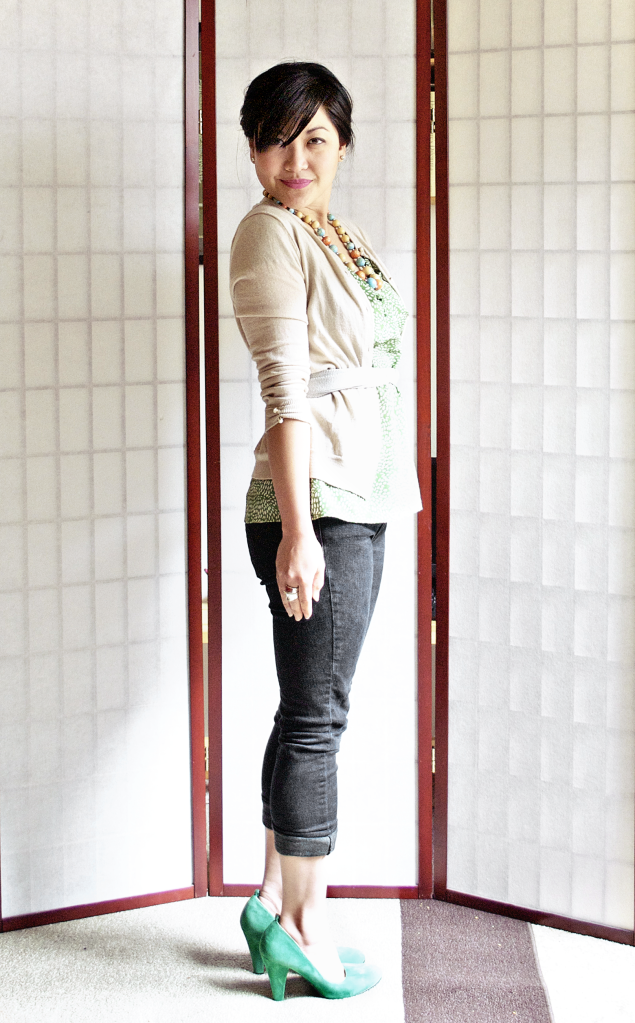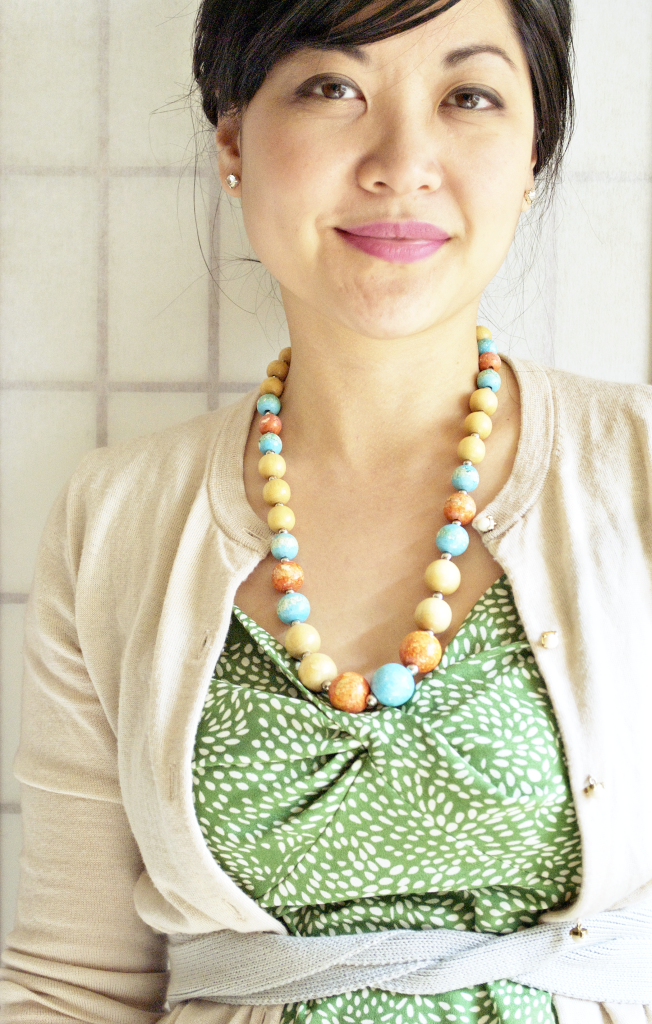 I feel like those yummy, candy-coated Jordan Almonds I used to get as a kid from the little old lady neighbors. Oh man! Craving. them. now. You'll quickly learn that I-AM-A-CANDY-FREAK. The biggest sweet tooth on the planet. Lucky for me, so is the Hubs and proud to say, I've never had cavities (knock-on-wood).
When we were newly dating, we painted a candy dish at a Paint-Your-Own Pottery to celebrate our one month anniversary–9 years later, we still have it! One of our kitchen cupboards is always chock full of candy goodness. Currently, you'll find Skittles, Hi-Chews, Whoppers, Kit-Kats and Jelly Belly Jelly Beans. My son benefits from the occasional "mo' bean", which is what he calls them. I ain't gonna lie, bribery works wonders. Am I right, or am I right?
The Hubs and I love candy so much, as a treat for our wedding guests, we had a buffet setup for our friends and family to choose their own favorite sweets by filling up small, brown paper bags that were lovingly hand stamped with thank you's. Come to think of it, there was a jar of those delightful Jordan Almonds. Here's a photo (sans almonds) from our photographer James McCormick of Studio Coburg. We had a big ass, Oregon country vineyard BBQ on a fabulous 75degree day in September. One of the best days of my life! I'll have to share more images in the future. As a teaser, my dress was found by accident squished in the very back of a sale rack at Anthropologie for $80. I knew it was meant to be, when I tried it on and it fit perfectly. No alterations needed, for reals.
Thanks for stopping by! Please forgive me, while I head off to look through our wedding album and reminisce with some Kit-Kats. (Is it just me, or does the word "reminisce" look strange)?