Tags
BBQ, beach ball, bohemian, bold, braided hair, bright, cardigan, clogs, color, color blocking, coral, creamsicle, fresh, Frye, gelato, gloss, grasshoppers, ice cream, J Crew, layered, linen, MoistureShine, Neutrogena, nordstrom, orange, outfit, over-sized, rolled sleeves, sandals, sheer, sherbet, shorts, smizing, sneakers, sorbet, summer, thrift shopping tips, thrifted, turquoise
Coral Linen Shirt – Nordstrom, Thrifted $6
Orange Shorts – J Crew, Thrifted $4
Sheer Cardigan – Handmade, Thrifted $2

Clog Sandals – Vintage
Stone Canvas Sneakers (for kiddo time) – Grasshoppers
Beaded Necklaces – Cost Plus and Thrifted
Turquoise Ring – TJ Maxx
Earrings – Target (recent)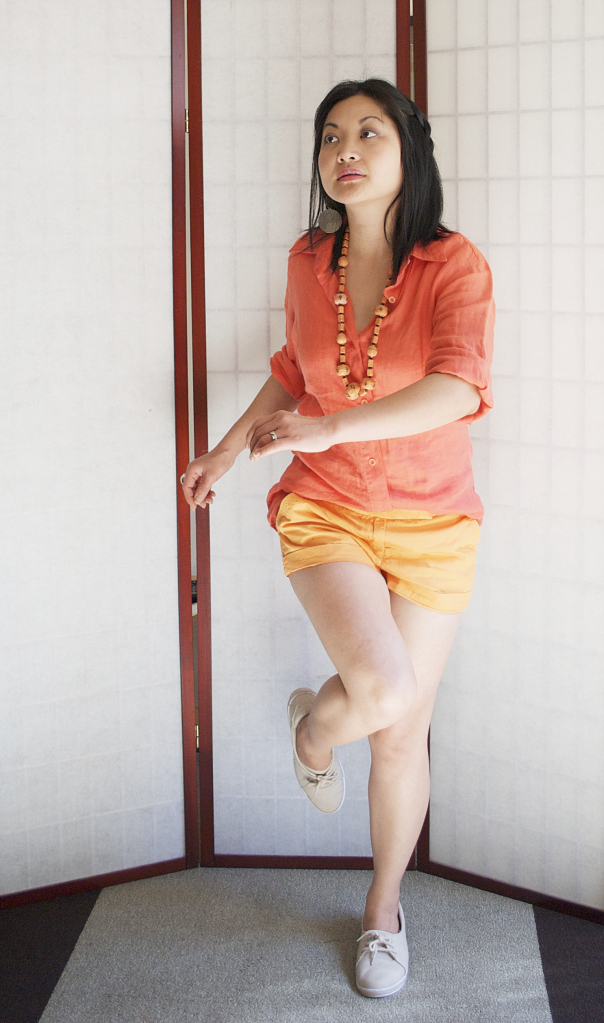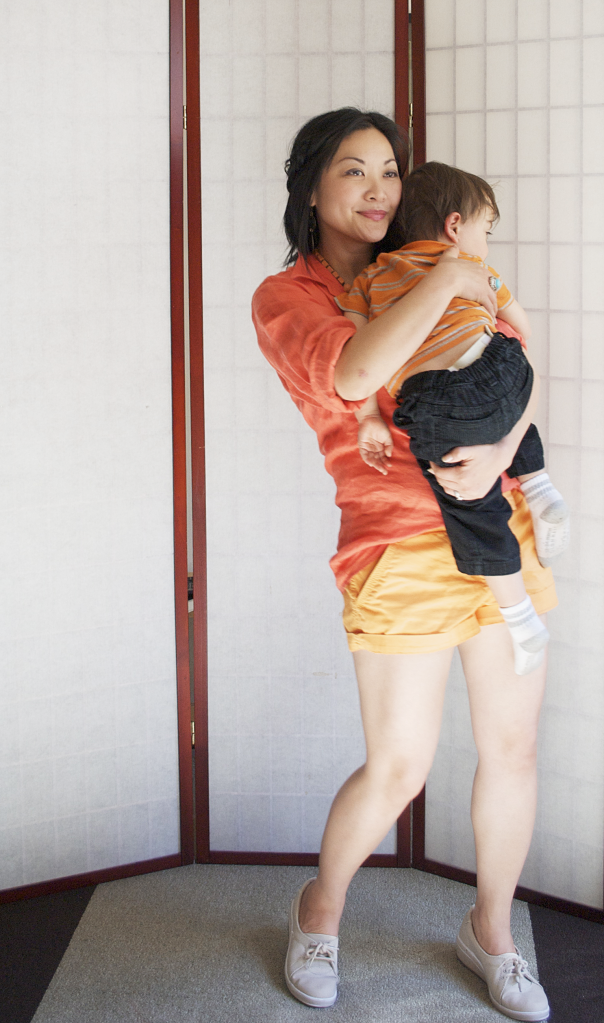 I am in love with every shade of coral right now and this linen top is high on my list for summer wear. I couldn't resist trying it on, even though it is a size Large and I am not. It just goes to show that sometimes there are hidden treasures in sections you normally wouldn't shop. It can be simple to make a top appear better proportioned by: rolling up sleeves, belting, tucking or knotting (just a few ideas). This is one of my thrifting secrets. I once found a pair of brand new Frye boots for $10 in the kids section of Goodwill. They were my size. Not kidding.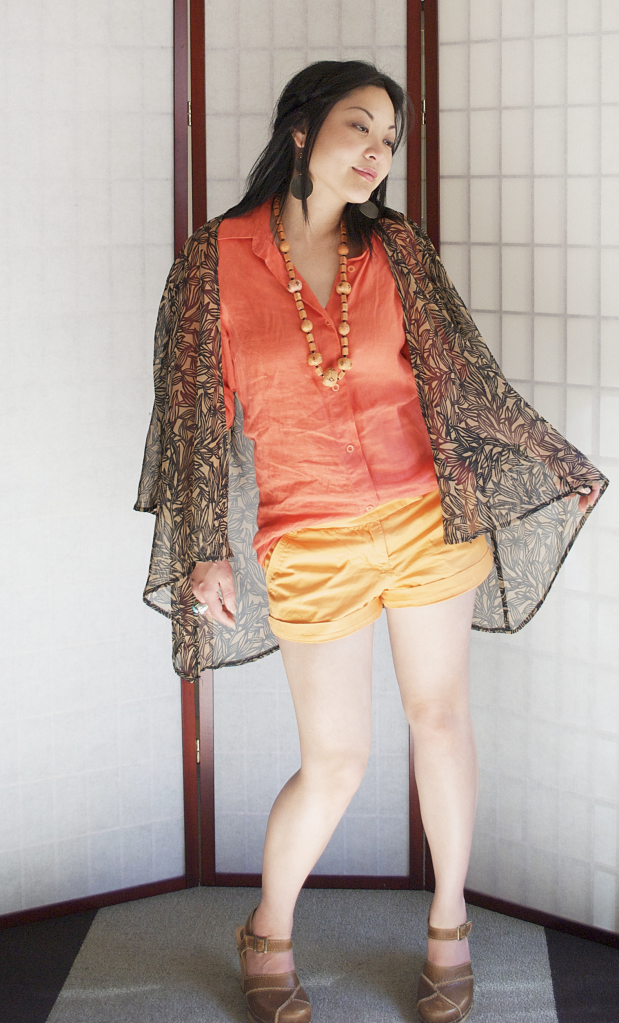 Now, let's talk about this sheer cardigan–another oversized item, but gosh, it's the most beautiful color and pattern–ever. I bought this during the winter thinking it would make a great layering piece. In the 7 months that we've been roommates, I've tried it on numerous times, but never felt good about wearing it until today! The neutral pattern and sheerness compliment my bright colors well. It acts like a shawl, but much more conducive to running after a munchkin.
Last order of business is my hair and makeup. I haven't parted hair in the middle since elementary school. Guess I was inspired by Jentine of My Edit and her fabulous hair in a recent post. Though, I decided to braid instead of twist the sides. Folks, Moses is in da house and parted the sea. As for my face, I kept it light and fresh with a tinted lip gloss. I'm wearing Neutrogena, MoistureShine gloss in Nutri Berry 130.
Sorbet or gelato anyone? That's what I'm doing this weekend as it's going to be in the mid 80's. Hooray! Now you see me, now you don't…