Tags
80s, blue, bohemian, boots, brown, classic, clearance, coral, dance, denim, disco, fedora, Frye, glitter, hat, kimono, knot, lavender, levi's, mix master, moto jacket, outfit, over-sized, remixing, romantic, skinny jeans, stacked bracelets, styling, sweater, Target, thrifted, tunic, urban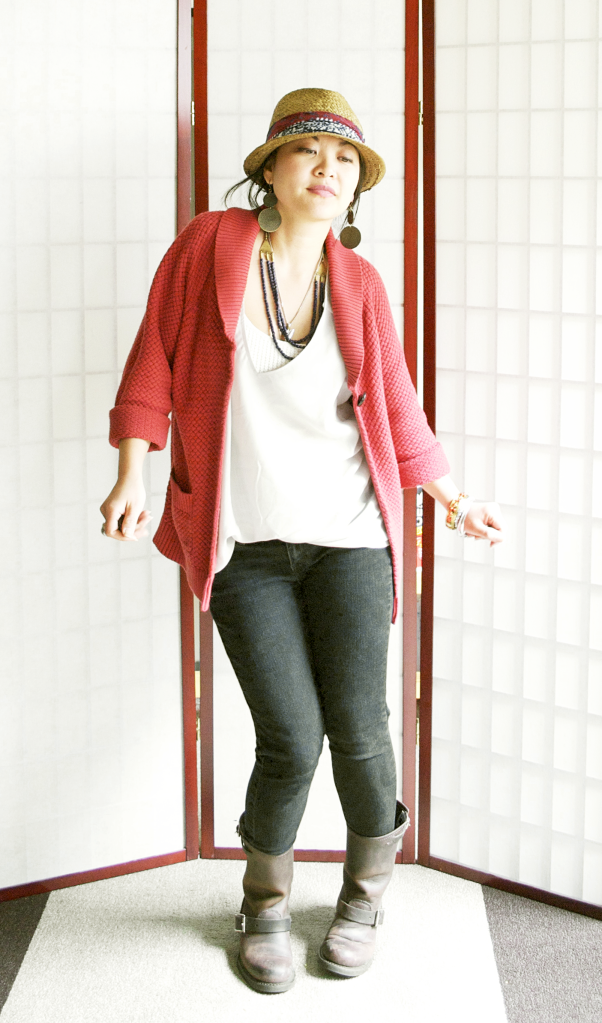 Coral Sweater – thrifted $4
Light Gray Silk XL Tunic (looks white) – Target $2 Clearance (old)
Black Denim Skinny Jeans – Levi's
Straw Fedora Hat – American Eagle (recent)
Leather Boots – Frye (Engineer 8R style), thrifted $10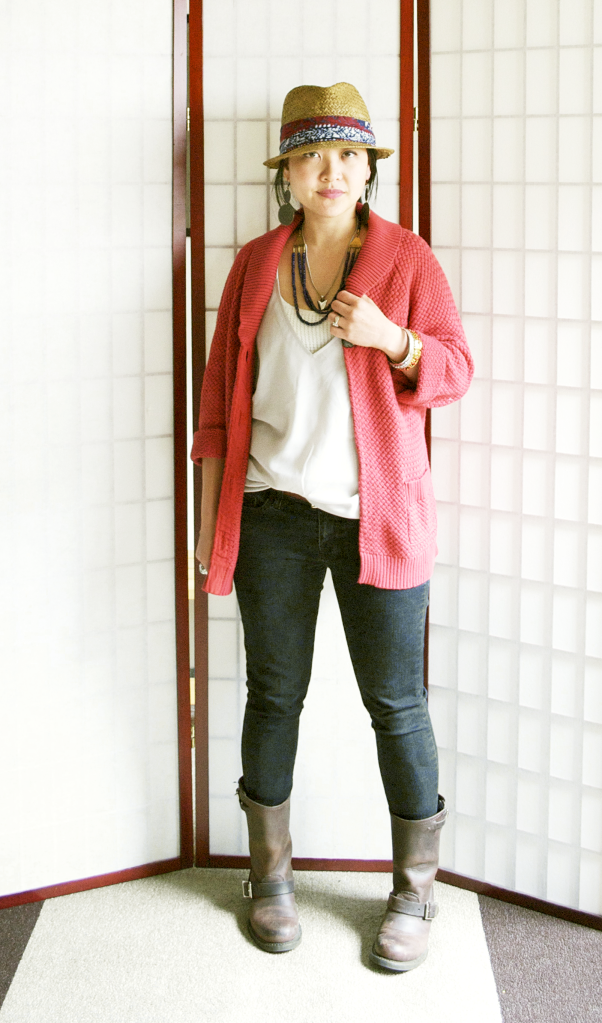 This is one of those weeks where I'm thankful the weather is still cool because I can wear my fave items without sweating an ocean. This coral sweater and these boots. Done. Secondly, I can throw on a hat and not deal with my nappy hair. Done. And thirdly, I'm happy for this blog, for allowing me to take a short break from daily life to do a little shimmy, a little shake (in my living room).
Surely, if the neighbors see me, they think I'm a little loco. My son, on the other hand, he thinks mommy is fun because he likes to dance, too! We have a disco ball hanging above our heads.
That's how fun we are.
I'm joking about that, of course. There is no disco ball and we are not fun, but we do have glitter embedded in the ceiling of our made-in-the-70's rental. That's the truth.
Do you want to hear another story about this size XL gray tunic from Target, that I bought on clearance for $2? I thought it was nutty, too until, I realized that I could wear it as a flowy dress, layered with other items, which I will most definitely do this summer–if it ever gets here. (Yes, I did just say I'm thankful for the cool weather, as well as, put it down in a single blog post. I'm ungrateful.
Here's a moving picture with different ways to make a large top appear fitted by: tucking, knotting in front, in back and on the side to define a waist. People, I'm bringing the 80's back–right here, right now. Below the spinny-spins is how I change up the look by styling with different outerwear, depending on the occasion and my mood. I may suffer from multiple personalities. Should probably get that checked out. You heard it here first!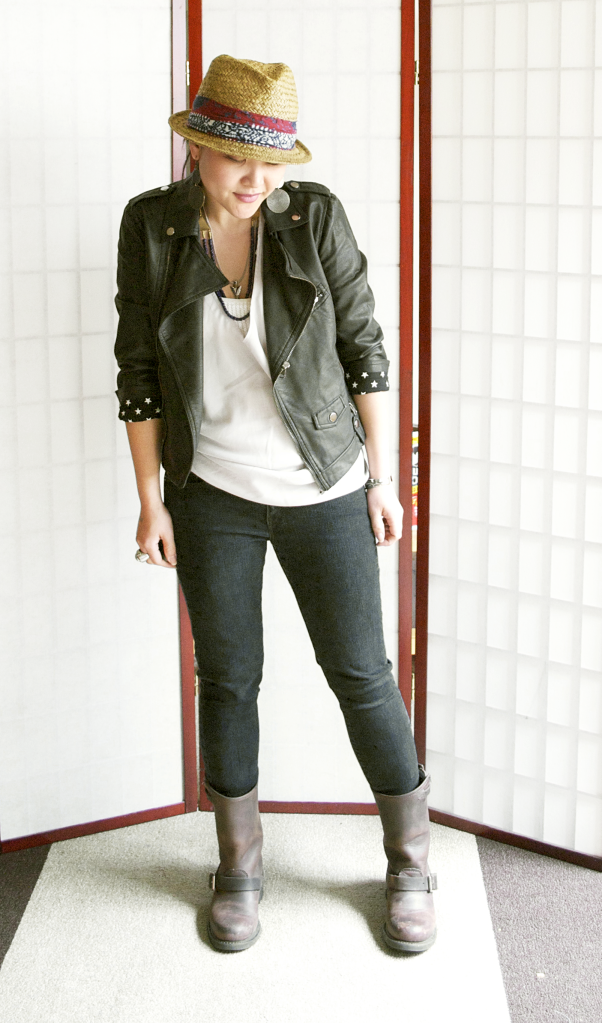 Alright, now, let's start a dialogue to devise a plan of collectively bringing back the 80's knot. Who's with me??