Tags
50s, ballet, barbeque, BBQ, beauty, black, braided hair, brown, bun, cardigan, dance, flat sandals, graduation, green, ladylike, musical, olive, outfit, pattern mixing, polka dots, ruffle, self belief, self confidence, shorts, skirt, strappy heels, stripes, summer, tu-tu, turquoise, ugly duckling, vintage, work to play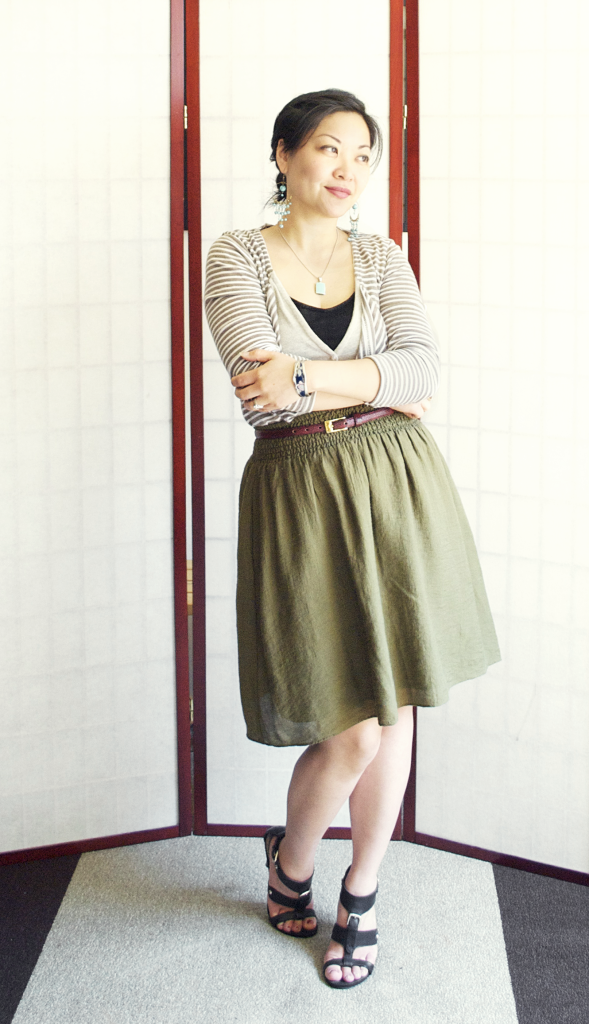 Striped Knit Cardigan – no label, thrifted
Green Skirt – Nordstrom
Black Heels – Nine West
Earrings – Target (recent)
Necklace – gift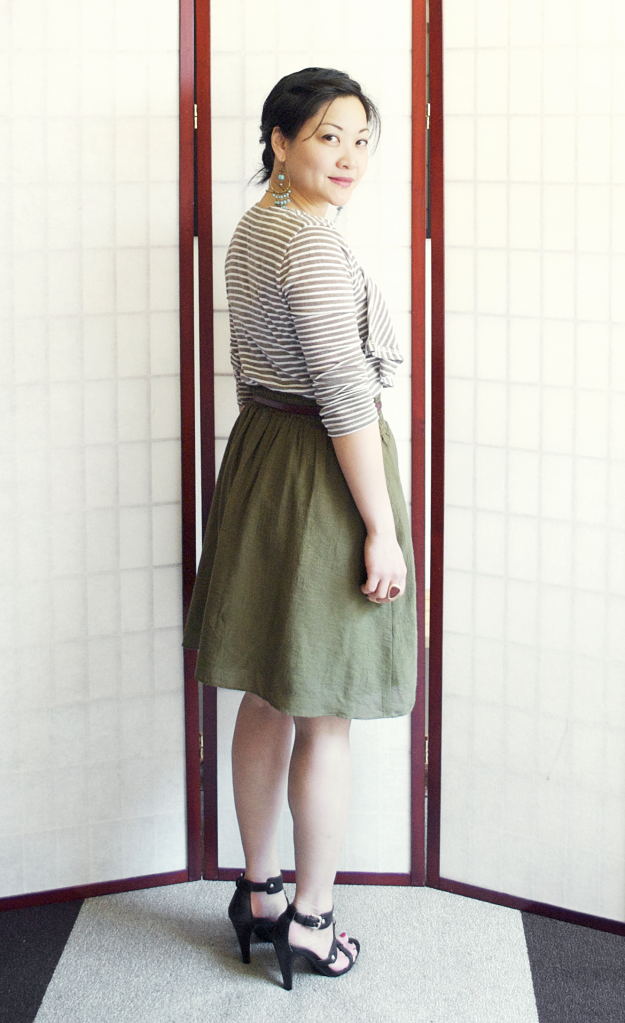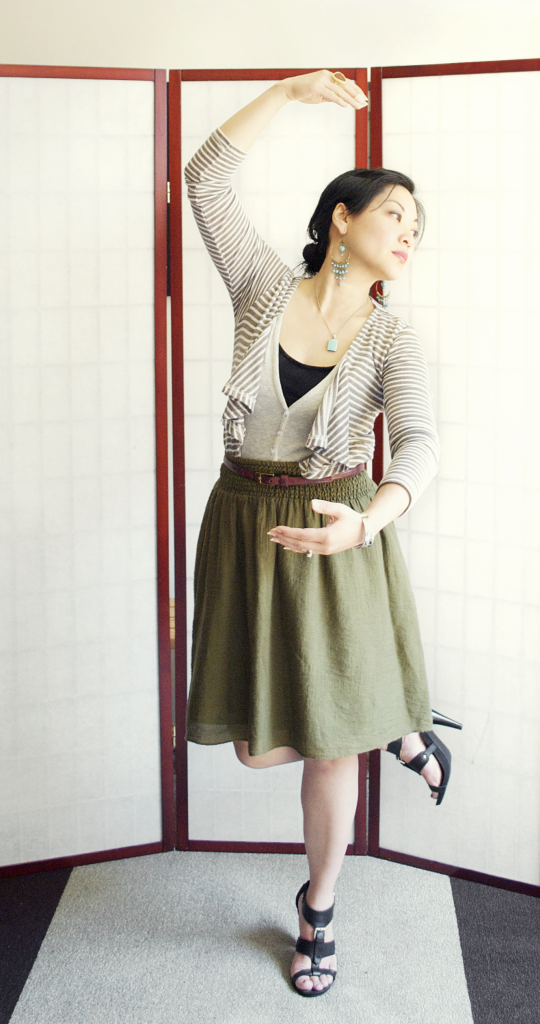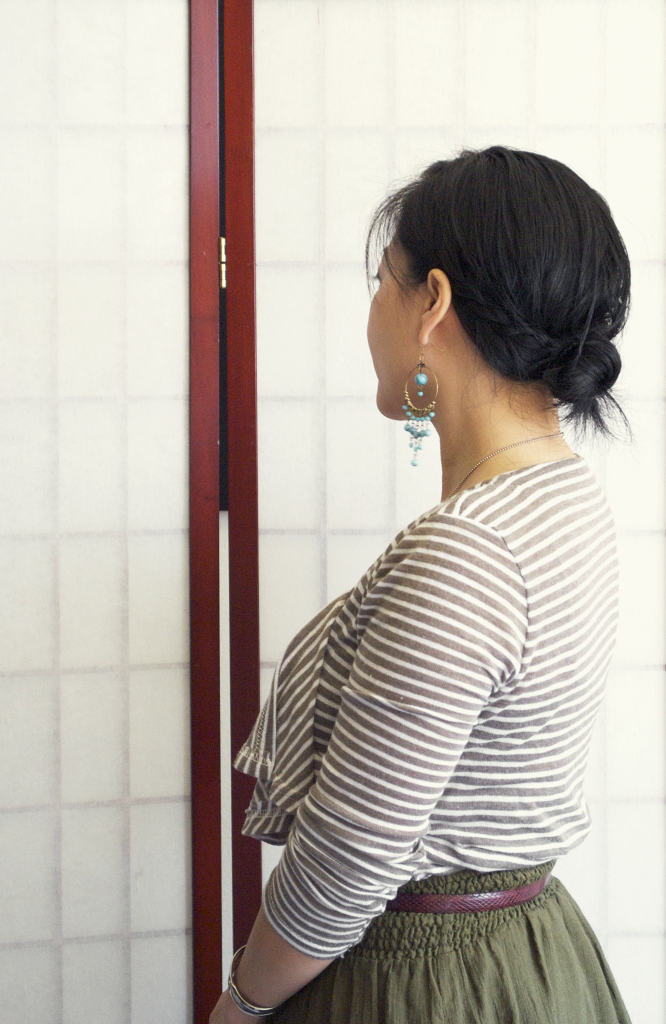 I don't know anything about ballet, but I feel like a ballerina in this outfit. Missed that wagon as a little girl. So flash forward 30 years later, I'm living out my childhood dream with a feeble attempt as posing like one. EPIC FAIL. It's because I don't have a tu-tu, right? How about a gold star for the bun on my head?
I do love to dance. The Hubs and I bust a move–like all-the-time. It's no wonder that our son has happy feet, too. That's him dancin' in the streets. Truthfully, he was born with natural rhythm. Turn the music on and he's bouncing to the beat. Give him an instrument and he's making his own beats. I hope he never loses this musical ability. It's wonderful.
Ballet makes me think of Swan Lake or more recently The Black Swan (yikes, trippy, psychological thriller), which led me to the title of this post: Ugly Duckling. I love this children's tale of triumph of the underdog or underduck. (Actually, did you know that a baby swan is called a cygnet (sig-nit). But an undercygnet doesn't work well here). I was painfully awkward, and shy as a young child up until college. Never felt like I was pretty or smart enough and definitely was not part of the cool crowd.
Through many life lessons, which I will spare the stories in this post, I've learned to love who I am. This belief in self is what makes a person beautiful. It will take one far–across town for a graduation B-B-Q. I'm proud to announce that the Husband has finally finished Architecture school. It been an intense, five years of long nights, hard work and many stress-induced, stupid arguments, but he's fulfilled a life-long dream. So happy for you, Baby! Now stop being a bum and get a J.O.B.
I switched out of the skirt (from work) to these 50's inspired, polka-dotted shorts and flat sandals (to play) for the grad party. A great way to start the weekend! Have a lovely one, friends.

Polka-dotted Shorts – Marshall's (recent)
Sandals – Vintage, thrifted