Tags
30 for 30, blouse, blue pants, braids, Buffalo Exchange, colorful, country, cut-out, Eugene, JCPenny, McBeth Vineyards, mixing metals, orange, oregon, pattern, plaid, relaxing, sandals, stacking bracelets, stacking rings, summer, thrift, turquoise, vacation, vineyard, vintage, wedding

Plaid Blouse – JCPenny (old)
Blue Denim Skinny Pants – Zumiez – via thrift
Gray Moto Jacket – Marshall's
Leather Sandals – Vintage
Metal Cut-Out Earrings – Buffalo Exchange (new)
Stacked Bracelets – F21 and thrift

Stacked Rings – TJ Maxx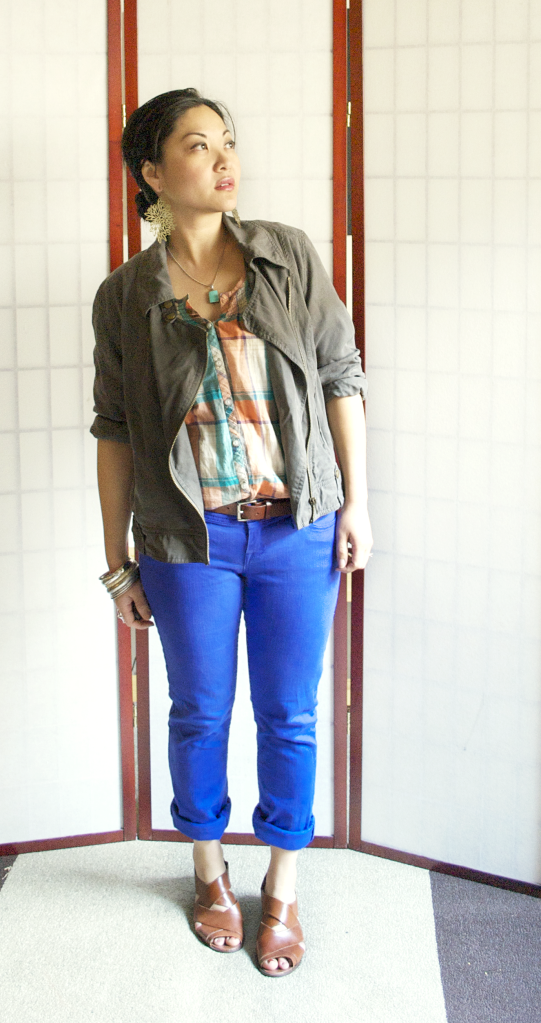 Did you miss me? Well… I'm bAAAAaaack! The Hubs, Kiddo and I took a spontaneous long weekend/mini-vacation. To this place: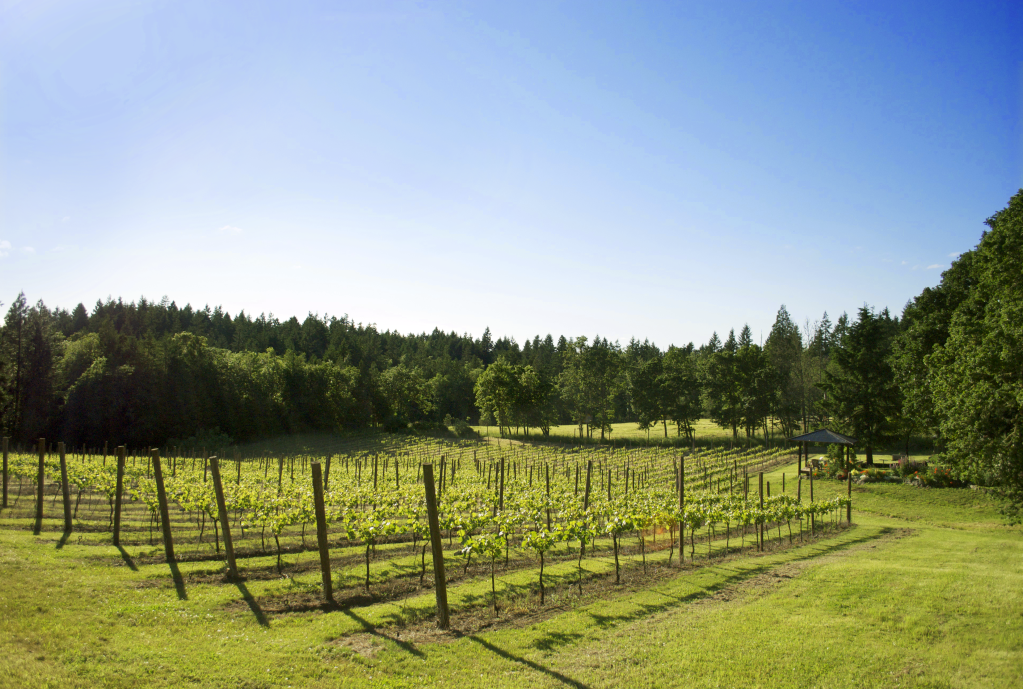 It's a little vineyard called McBeth Vineyards, 20 minutes outside of Eugene, Oregon (2 hours south of Portland), which also happens to be my In-Law's backyard. They planted Pinot Noir grapes and have tended to it with love and passion for over 6 years. The Hub's grandparents used to own the property, which was originally a farm. It's also the incredible, magical place where we got married. What a way to kick-start the official start of summer with some upper 70's and low 80's temps! Can you feel the tranquility of the countryside jumping out of the photo? BAM. I had planned to take outfit photos, but only got in a couple (one of which, didn't go as I had imagined in my mind). Alas, it will end up on the cutting room floor and I'm okay with that. I'll share more vineyard photos in other posts.
This here outfit is what I wore the day we headed out of town–a slice of summer! Hope you're all having a fabulous week.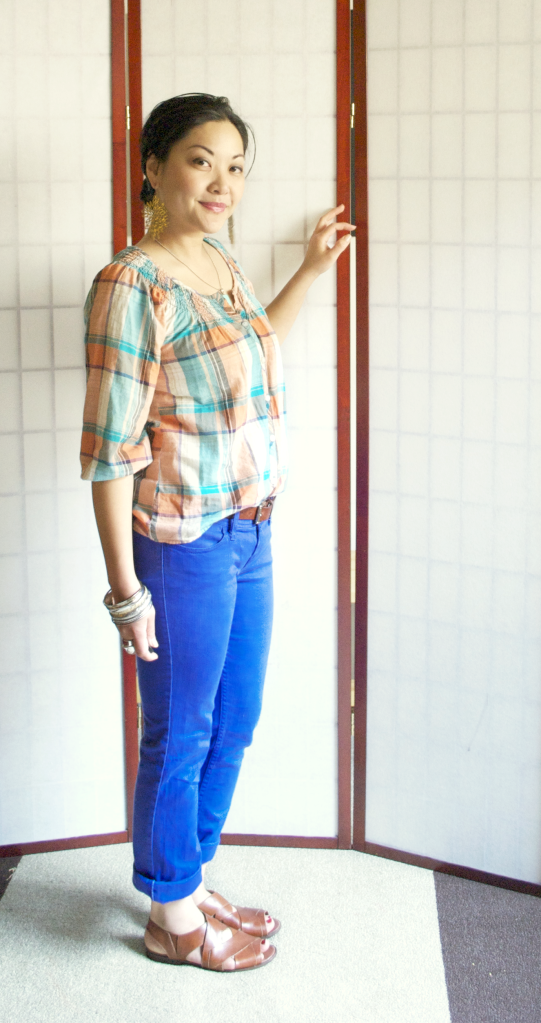 Oh wait… there's more. What did you expect?! I've been away for too long and have much to say. All very important things that will change your life, I assure you.
So besides stacking bracelets and mixing metals, I like wearing two (or three, if they are skinny) rings on a single finger. Deciding what rings to put together is like playing sculptor–you end up forming the look of one ring, but it's an art piece. As for these laser cut-out earrings that I've got on–I love them and just put them back in the loop of baubles to wear more regularly. Do you tend to gravitate towards certain items of jewelry or clothing and wear them again and again, even though there are many others begging for your attention? Please share your stories. I do this all-the-time (with certain foods, too) and then get sick of it for awhile. (Take the 30 for 30 Polka Dotted Shorts in outfit No. 02 and No. 03, as a prime example of my obsessive behavior). On a related note, if you have a Buffalo Exchange (they sell new and used clothing) in your area, they are a great place to purchase fun, inexpensive new jewelry. Every season, I gather up a pile of clothes that are in great condition, but I don't want to keep and sell to Buffalo for in-store credit. It's a great way to clean out your closet and earn dollars towards new-to-you items. "Free" money. I have been rotating out my clothes since about 2000. Holey moley, that's ELEVEN years!! True story. Come to think of it, I should turn my closet into a Buffalo Exchange and become part of their franchise.