Tags
30 for 30, beach, braided belt, color, color brigade, coral, easy, hot pink, JCrew, khaki, miami vice, military, mint green, neon, neutral, outfit, relaxing, retro, safari, sandals, scarf, summer, sunglasses, thrift, tunic, vacation, vineyard, vintage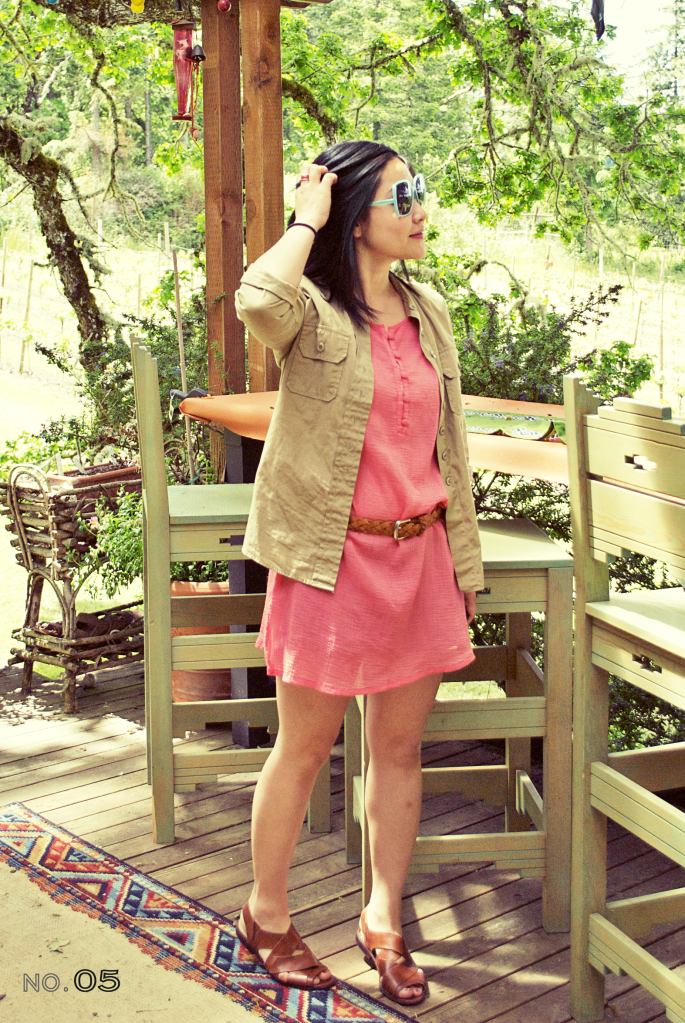 Pink Sheer Cotton Tunic – JCrew

Khaki Button Up Top – thrifted, $4

Leather Sandals – Vintage
Braided Leather Belt – JCrew
Floral Scarf – Vintage, thrift $2

Minty Green Sunglasses – thrifted, $3 at Goodwill
Something about coral pink and minty green makes me think of Miami Vice. Only I am not in Florida and not a detective. I wouldn't know where to begin solving a heinous crime. A fashion dilemma on the other hand–I can handle that.
These are the only outfit photos to make it from the long weekend. By coincidence I happen to match the decor in the outdoor patio space at my In-Laws' vineyard. Is this tasteful or tacky? You decide. This look pretty much sums up my style, while I was away. Easy. Relaxed. Light. Comfy. Warm weather is really the only time I feel it's appropriate for women in their 30's and up to wear shorter hemlines with bare legs. (I am wearing shorts underneath the tunic–indeed). My hair was bugging me, so I put on a vintage scarf to get it out of my face and it all felt very retro, which I loved. Outfits that tell a story or transport me to another time and place are fun! As the day went on, it got very hot, so I tied my hair up, tucking the ends of the scarf into my bun. And did you notice how I tucked in the collar of my khaki shirt? Changes the look. Takes it down a notch.
Do you like my $3 minty green sunnies? They add the right amount of pizzazz to my day. Life is good.
What's your cheapest accessory?