Tags
30 for 30, beaded jewelry, black and white, blazer, block party, braided belt, canvas sneakers, fedora, hat, J Crew, khaki, Michael Kors, neutrals, orange, pattern, peach, Portland Sunday Parkways, shoulder bag, straw, summer, Target, thrift, tribal, turquoise, urban, weekend, white shorts

Tribal Print Sleeveless Top – Forever 21
Khaki Jersey Blazer – thrifted, $5

White Shorts – Target
Straw Fedora Hat – Target (current)

Canvas Shoulder Bag – Michael Kors, thrifted, $5

Tan Canvas Sneakers – Grasshoppers
Black Strappy Heels – Steve Madden via Marshall's
Beaded Necklace – thrifted

Chunky Turquoise Ring – TJ Maxx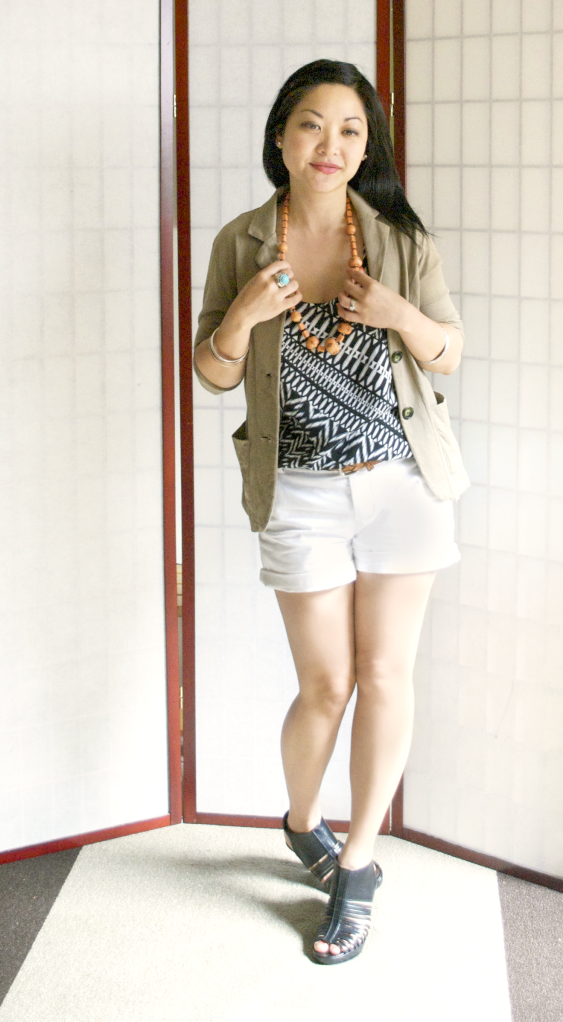 Yup, that's right. Folks, I've been around the block. (No. Not that kind!)
This past weekend, the city of Portland closed off 8 miles of streets in the North Portland area, for an annual summer event series called Portland Sunday Parkways. They have selected 5 neighborhoods (one each month, May through September) to block out vehicle traffic for about 5 hours, to promote alternative forms of transportation, engage communities, and bring people to the parks. This event allows people to enjoy outdoor activities in areas that they might not visit otherwise. Plus, it's fun to walk down the middle of streets that are normally full of cars! And you can't beat free. This event brought out 91,000 people to the streets last year. How awesome!
You know what else? I walked 8 miles in 3 inch heels. No. That's a lie. My feet would hate me for that and since I need them to get around, I slipped on some canvas tennies. We strolled around on foot for a couple hours with the two-year old in tow. Though, for most of it, the little guy had a great view from Pop's shoulders–which nearly took out his back. We are getting old. And our baby is getting big.
My laid-back weekend attire was perfect for the day's events! Summer is about ease and that's why I love menswear inspired looks. There's a sense of effortless swagger that comes with the style. Adding the unexpected tribal pattern makes this classic look a bit quirky, which pretty much sums me up. I'm an odd one! It was also fun to add the pops of color to contrast an all neutral palette.
C is nutty at controlling the camera remote and he also wanted to dance with me during the middle of my shoot. I love this kid!