Tags
abstract, color brigade, colorful, floral, garden, heels, knotted belt, military, mustard, nautical, outfit, pattern mixing, pleated skirt, sandals, spring, stripes, summer, thrifted, vineyard, vintage, watercolor, wedding, yellow
Floral Pattern Shirt – thrifted $3
Striped Pleated Skirt – vintage, thrifted $6
Military Style Jacket – Unionbay
Mustard Sandals – American Eagle
Skinny Leather Belt – F21 (recent)
Bracelets – various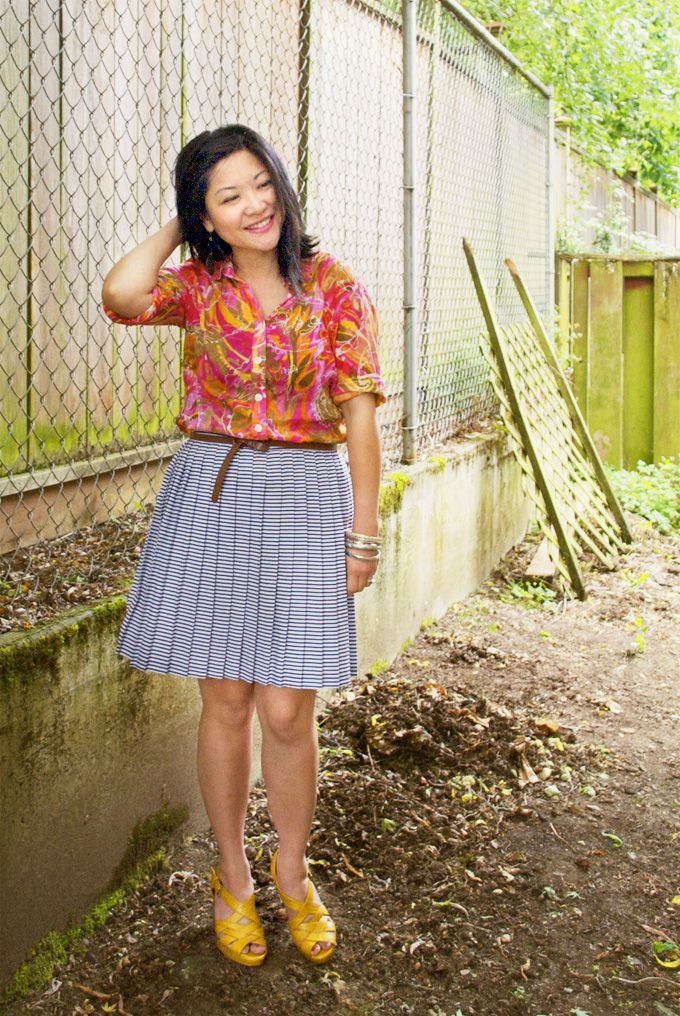 I don't often knot my belts, but it seemed to fit in with a Nautical Garden Party For One.
On this overcast and slightly rainy day, instead of moping, I threw a party! Tea anyone?
Thanks for stopping by today, I hope you're having a wonderful Friday. I'm heading off to
a wedding at the family vineyard, pictured here.
My brother-in-law J and his fiancé S have planned some delightful details for their reception.
Some of my favorites include mixed, vintage flatware that they have been collecting for
months from various sources; Kitschy salt and pepper shaker centerpieces (hamburgers,
animals, vegetables and many more); S handmade all bridal party dresses in green; bride is
wearing a green polka-dotted sash with her short tea dress; and instead of cake, they are
serving pies made by various family and friends. It's going to be a laid-back BBQ hoedown.
If these details aren't enough to describe the couple's quirky personalities, get this–the bride
says she's going to announce dessert time with a primal scream, "EAT PIE!!"? She. is. a. ham.
If S chickens out, I will do it–Braveheart style.
Kick back this weekend with some pie and ice cream. Also, link up to the Color Brigade and
check out Kileen's blog at Cute and Little.