Tags
blog swap, braided hair, denim, floppy hat, J. Crew wedges, knotted, pleated skirt, royal blue, skirt as dress, summer, thrift, vintage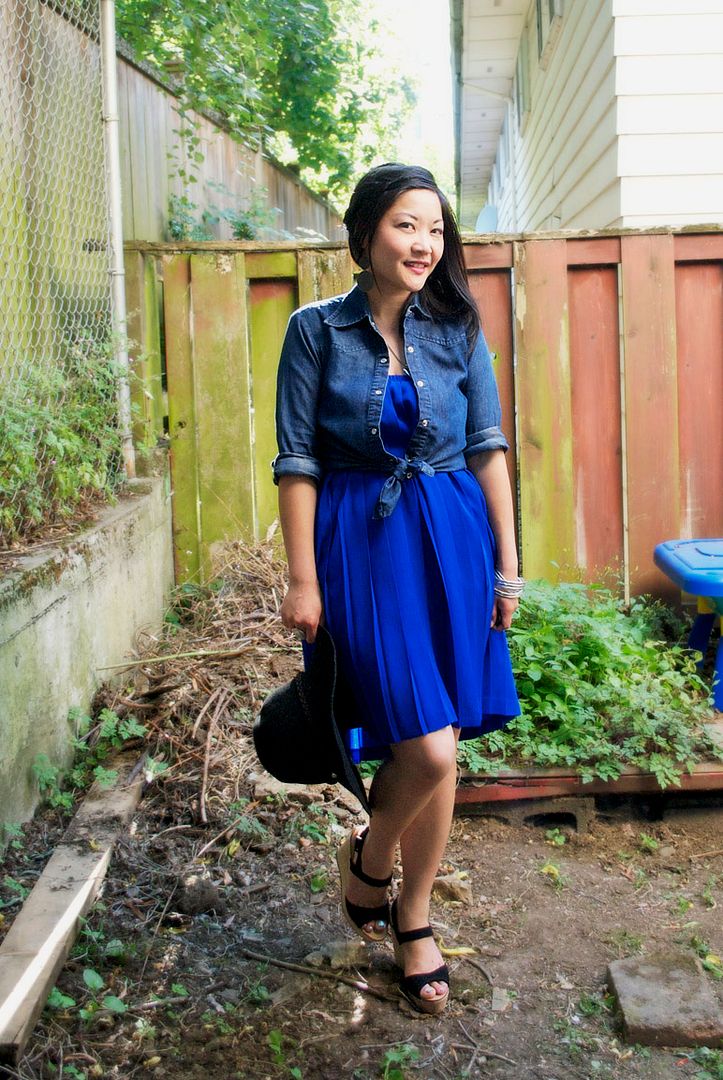 Blue Pleated Skirt (as Dress) – blog swap with Heather
Denim Shirt – thrifted $3
Suede Wedge Sandals – J. Crew ($45, new condition via Buffalo Exchange) story for another day
Floppy Hat – vintage, thrifted $6

Look ya'll, I did a swap with the lovely Heather over at H & K Style Journey. She writes a
personal style blog with her equally beautiful daughter, Kayla. Heather also enjoys thrifting
and dressing on a budget, so naturally, we've become quick friends over our shared interest.
When she wore this amazing, royal blue pleated skirt and offered to do a blog swap, I jumped
at the opportunity! See Heather wearing the blue skirt with a coral tee and patterned belt here
and with a striped tank here. And the most exciting part? The vintage skirt was thrifted for
a whopping fitty-cent! 50 cents?! Best. deal. ever.
Things I learned: the midi length is difficult for me at 5 feet tall or maybe it's the large amount
of blue on a midi skirt that is troublesome. Either way, I find the key to wearing bright colors is
balance. I like to offset bright tones with neutrals. Showing skin (i.e. my legs) acts as a neutral
buffer. See how I wore a blouse in the same shade of blue for a Wizard of Oz inspired look, here.
Legs (bare during summer and with tights in the winter). Always one for wearing things creatively,
I hiked it up and dressed the skirt. Knotting a denim shirt over the top gave me a waist, dressed
it down and worn with my floppy hat and side braids made for an effortless summery, business
casual look. I might sneak in another wear before returning it to H. Thank you, Dear, for letting
me play with an item that's on my list of skirts to thrift. Pleats are flattering and make me
wanna dance! Now, dance over to Heather and Kayla's blog if you haven't already!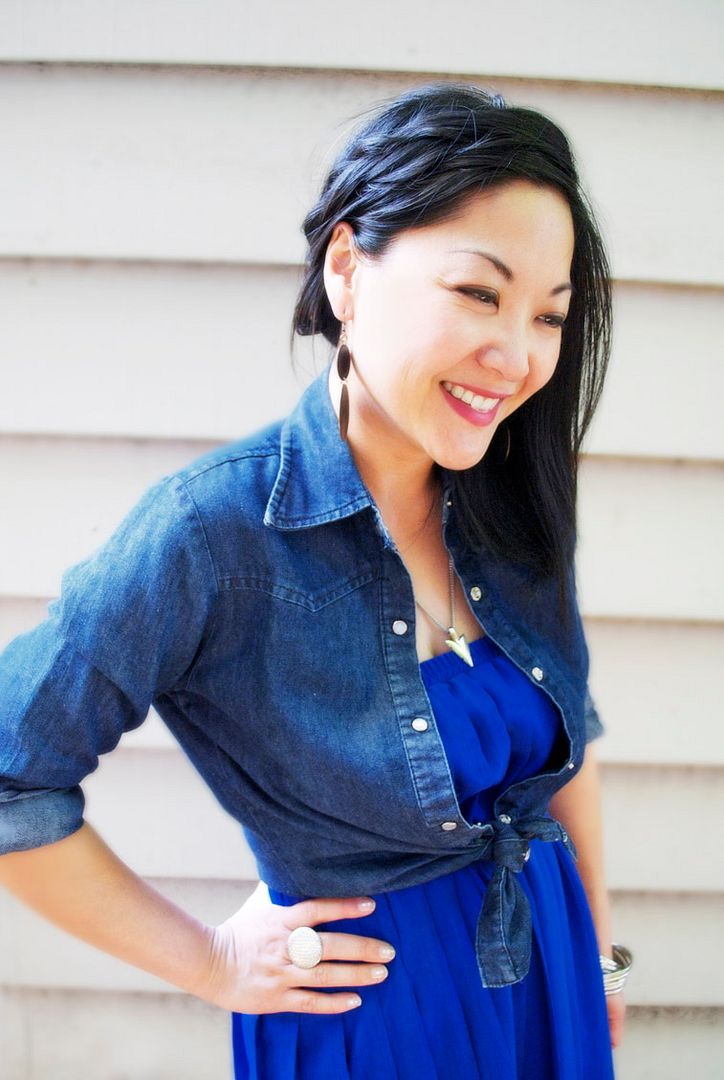 —
Last seen wearing: Bright Blue Pants / Floppy Hat / Dress as Skirt