Tags
blue, color blocking, color brigade, linen, park, royal, shorts, silk, summer, thrift, thriftaholics, turquoise, vintage, wedges, wrap blouse
Turquoise Silk Blouse – Vintage, thrifted $4
Royal Blue Linen Shorts – Express, thrifted (via Buffalo Exchange)
Black Suede Wedges – J. Crew (new, via Buffalo Exchange)
Gray Leather Belt – thrifted $2
Jewelry – (ring) TJ Maxx, (hoops) F21, (arrow necklace & bracelet) thrifted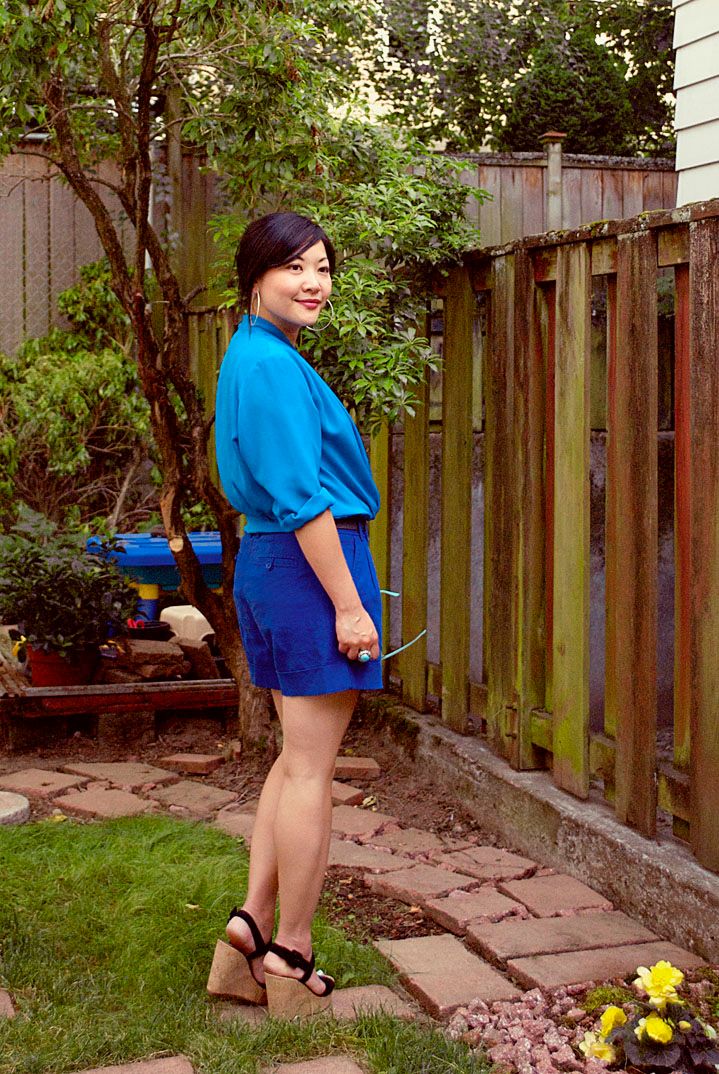 Say hello to my little friend, Royal Blue–again. It's the color of choice lately! Last weekend,
I cleaned out my closet and sold clothes at my fave consignment/buy-trade shop, Buffalo
Exchange. They are located all over the states, so if there's one in your city and you haven't
been there, go. now. I earned $200 in store credit (a.k.a. FREE money) and treated myself
to these brand new J. Crew wedges (from S/S 11) for $45. They're currently on sale,
online for $90, originally priced at $150. It was my lucky day, as someone had just sold them
that very morning! Generally when I trade clothes, I'll spend my earnings on high quality,
hard to thrift items. Whatever Buffalo doesn't buy, I consider trading at another shop if there
are things that I think could sell elsewhere or donate to a local non-profit. How about you, do
you sell your clothes or do they go straight to a donation site?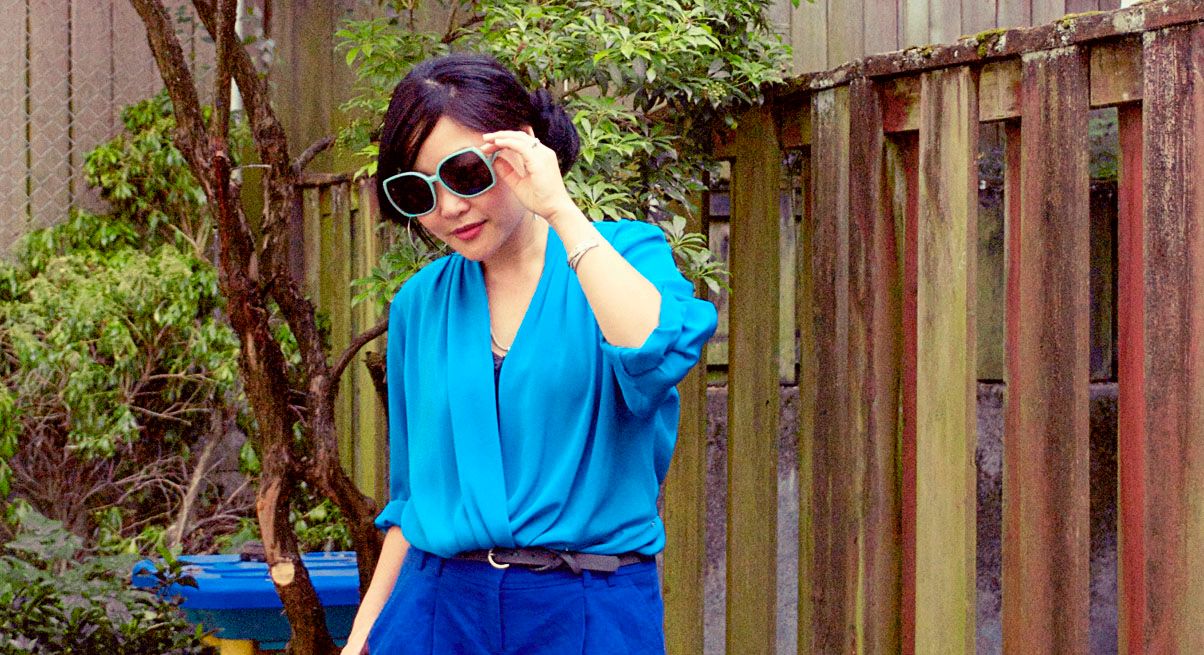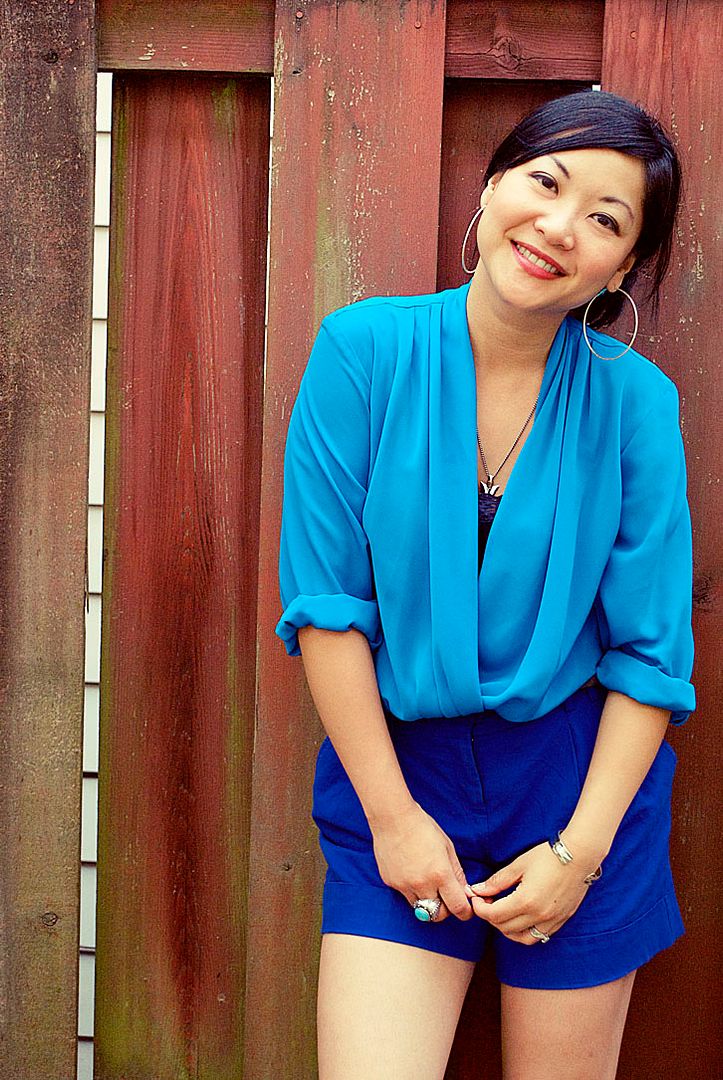 On the way home, I swung by my neighborhood thrift store and found this vintage silk blouse.
Since Saturday, I've already worn it twice (didn't photograph the first wear) and it's quickly
becoming a fave piece. The wrap style is so feminine and versatile. I first wore it unwrapped
as a cardigan over a sleeveless top and here I've tucked it into my shorts and played with the
drapey neckline. The color block look was inspired by this outfit in a shopbop.com lookbook.
Confession 1: I don't think the shorts photography well (even the Hubs mentioned it when he
took a glance at my photos). He said it looks different and better in person. Good man.
He doesn't lie.
Confession 2: I'm also not entirely happy with the photos from this shoot because it ended
abruptly when little C comes running out of nowhere and rams into the tripod, knocking it over,
along with the camera. Happily, both my Nikon and the boy are doing fine. No major injuries,
as far as I can tell. Needless to say, this incident left me in no mood to continue taking photos
with a crazy child running amuck. So we gathered him up and made a mad dash for the park.
Sigh. Boys will be boys…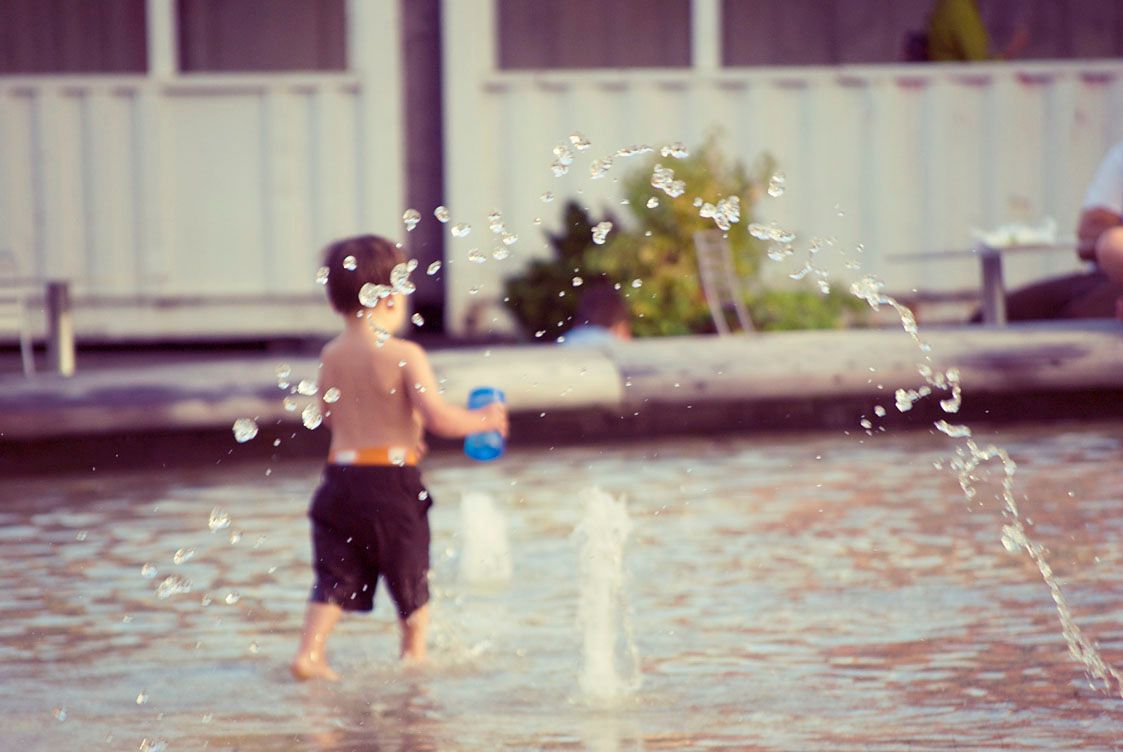 Children at play are a joy to watch.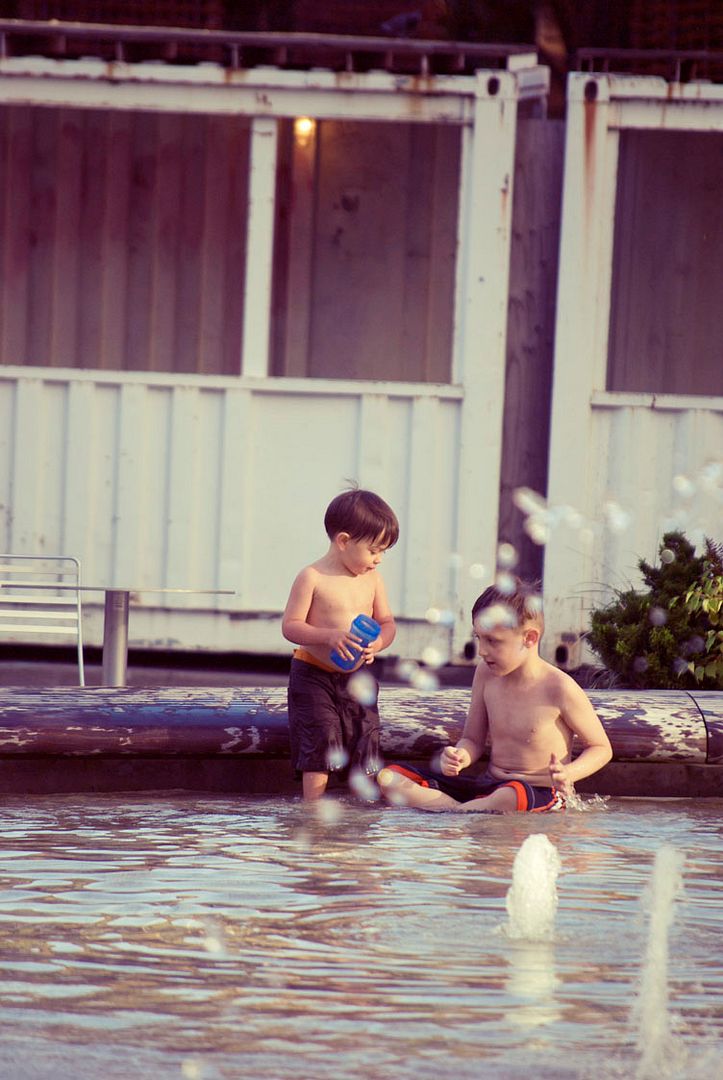 C makes easy friends wherever he goes.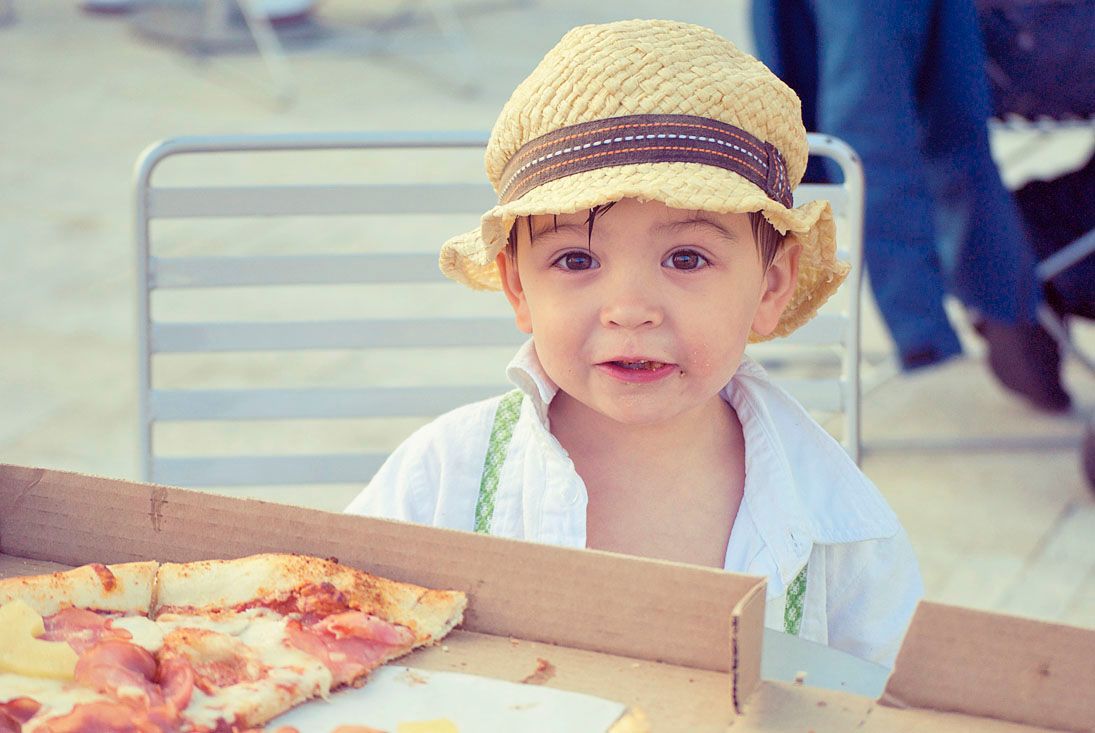 Canadian Bacon & Pineapple Pizza at the Park is perfectly, delicious. (Say that five times, fast).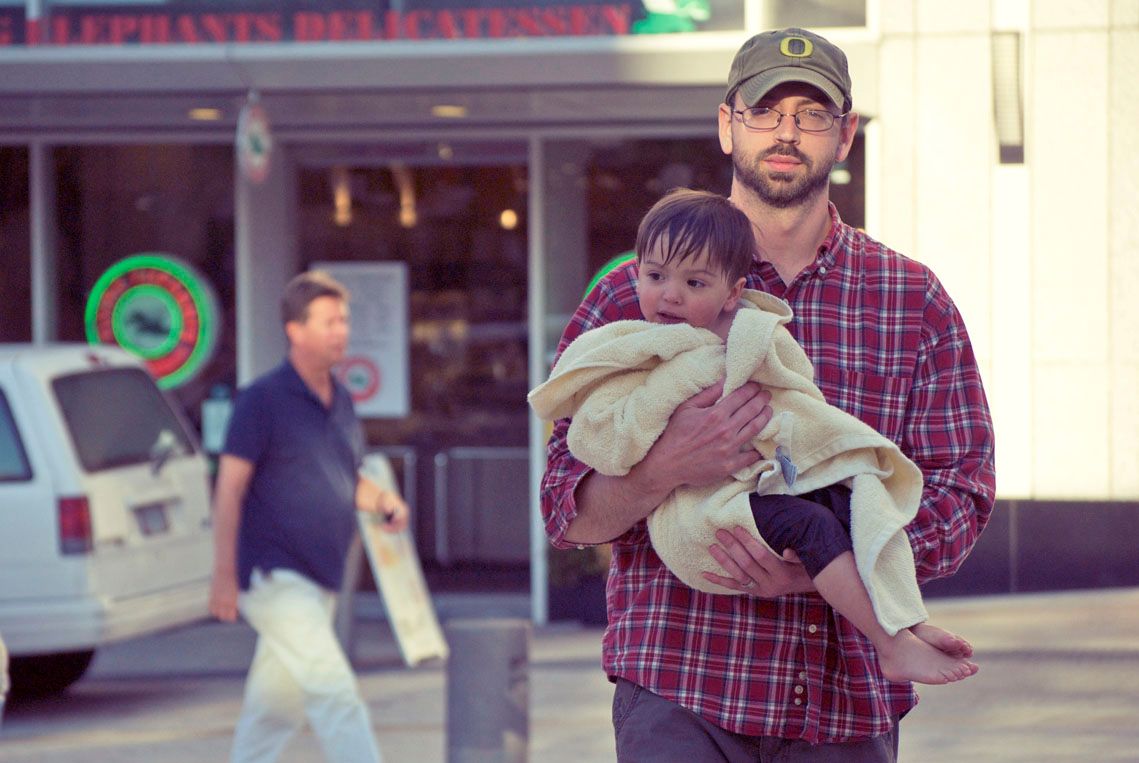 Let's wrap it up and head home.

—
Last seen wearing Royal Blue: Pleated Skirt as Dress / Silk Blouse with Gingham Shorts / Blue Pants with Summer Plaid
Also, hop on over to the Color Brigade at Kileen's blog, Cute and Little, and see how other
ladies style bright hues during the dog days of summer.
Then check out Thriftaholics Weekly at Morgan's blog Meet Virginia.