Tags
braided hair, cape dory, casual chic, gidget, holiday, jeans, Lucky Brand, memorial day, nautical, navy, outfit, red, retro, sailing, side bun, stacked bracelets, tennis, vest, vintage, waldo, white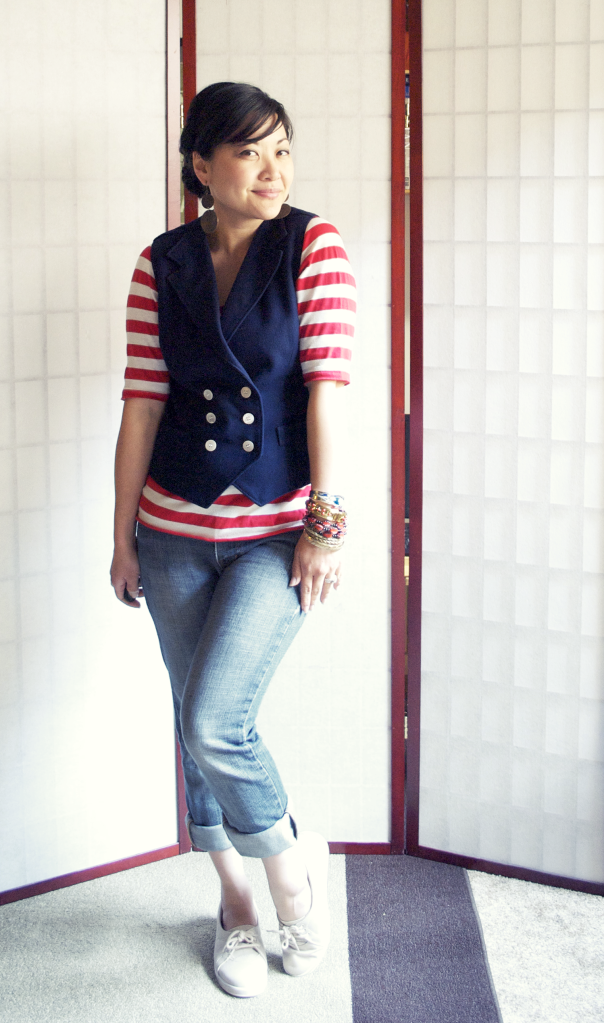 Red White Striped Top – TJ Maxx, Navy Wool Vest – Vintage Thrifted , Jeans – Lucky Brand, Stone Tennies – Grasshopper, Stacked Bracelets – F21 and Various Thrifted , Earrings – Target (current)

Yes, Nautical stripes again! Can't get enough. Sometimes this red and white top makes me a pirate, but today, I feel retro like Gidget meets Waldo. By coincidence, it's also Memorial Day and the colors celebrate this day of remembrance for all the men and women who have lost their lives to protect the freedom of America. Thank you for your courage!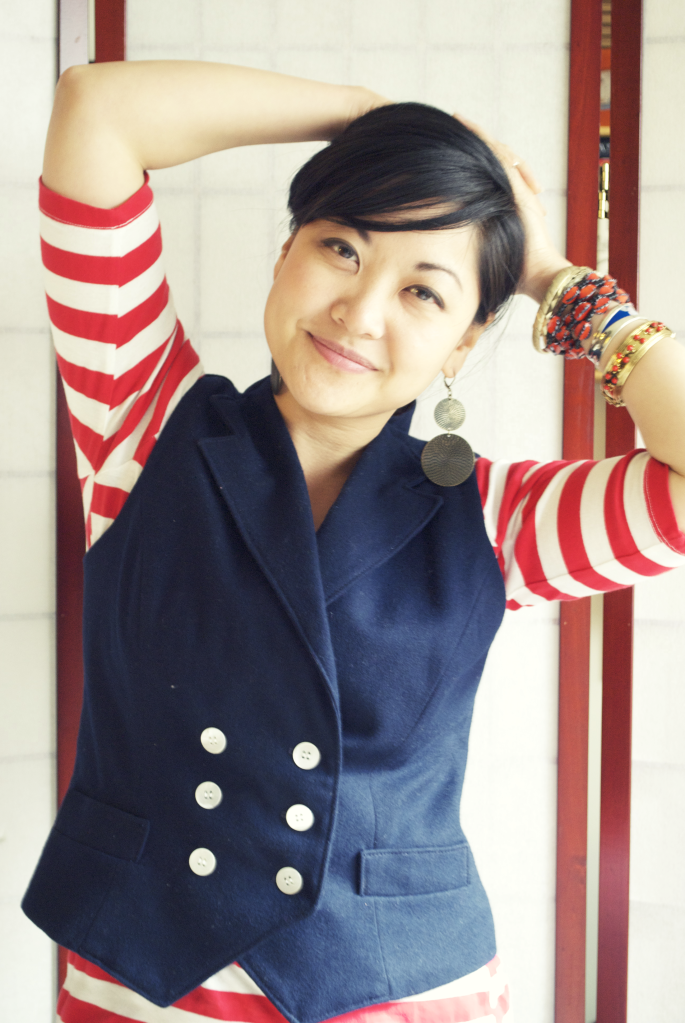 This vintage navy wool vest was brought home on a recent thrifty outing. It was love at first sight. The double row of buttons on the front is what got me at "Hello". It's a pretty versatile piece that will be great for layering and I'm very excited to play with different looks! It makes this very basic outfit more chic.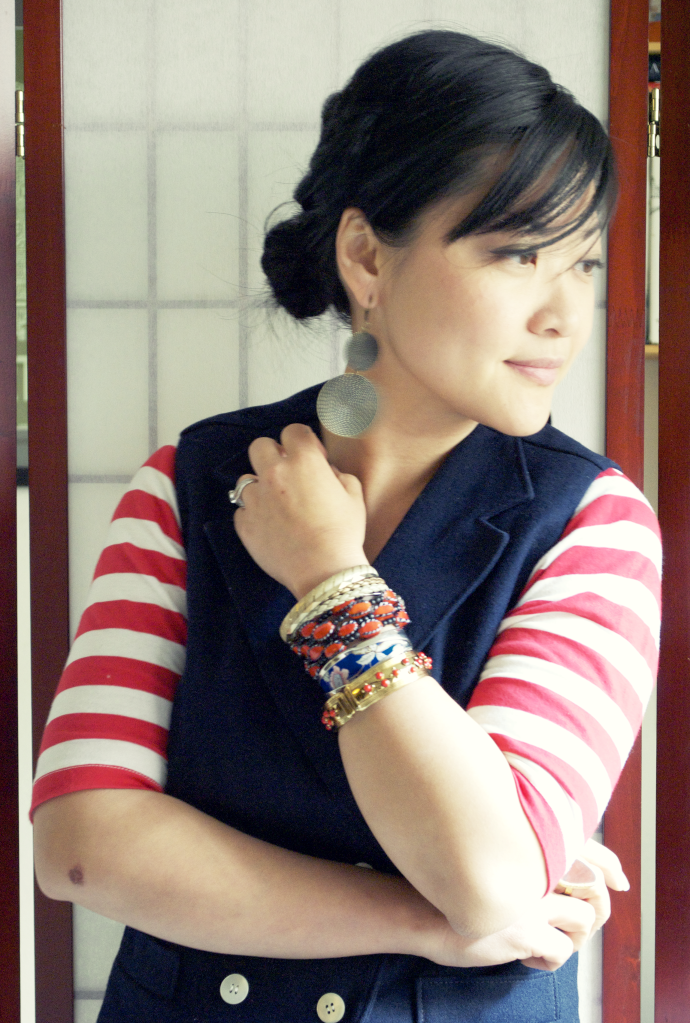 I also dressed it up a tad with my braided side-do, drop earrings and stacked bracelets. Have you all been wearing this trend? It's quite fun trying out different bracelet combinations to get it "just right". I think this look adds a little spice to any simple outfit. (Oh, and do you see that scab on my elbow? It's a mommy wound. A reminder of the daily "sacrifices" I make for my son, in the name of love and play. There's a local indoor play cafe called Playdate PDX (the play structure is ginormous and completely awesome for parents and kids) with a wavy carnival slide in the center and depending on what you wear, it can go from super fast to Nascar fast. This one time, I managed to speed down the darn thing and tried to slow down with my elbows (dumb move) and burned a half inch area of my skin off. (Gross, I know). The end.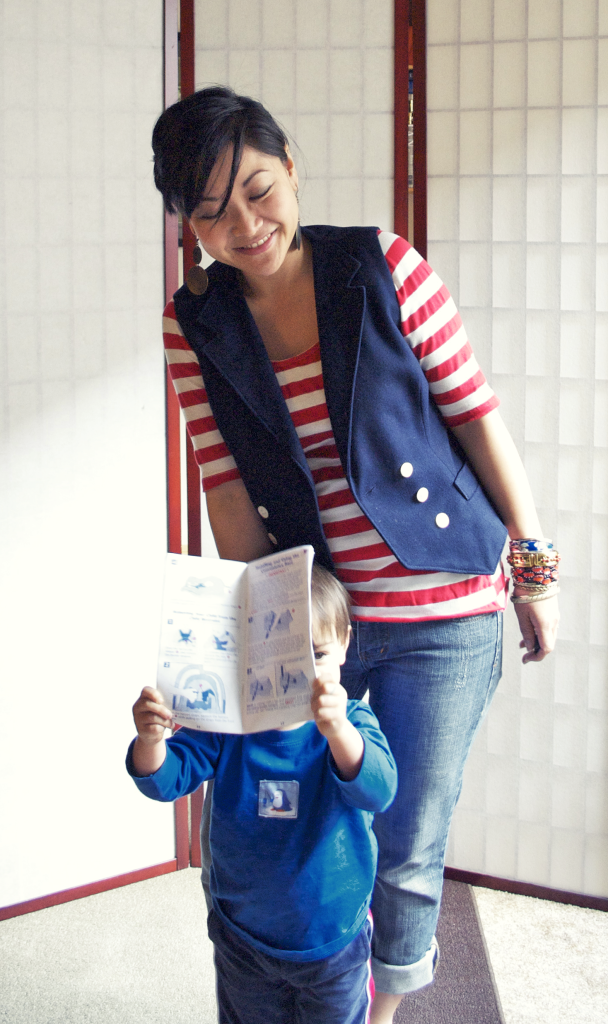 And that's him behind the car seat manual. There's an illustration of a baby on this page, which he has dubbed "Baby Buddha". My mom would be so proud.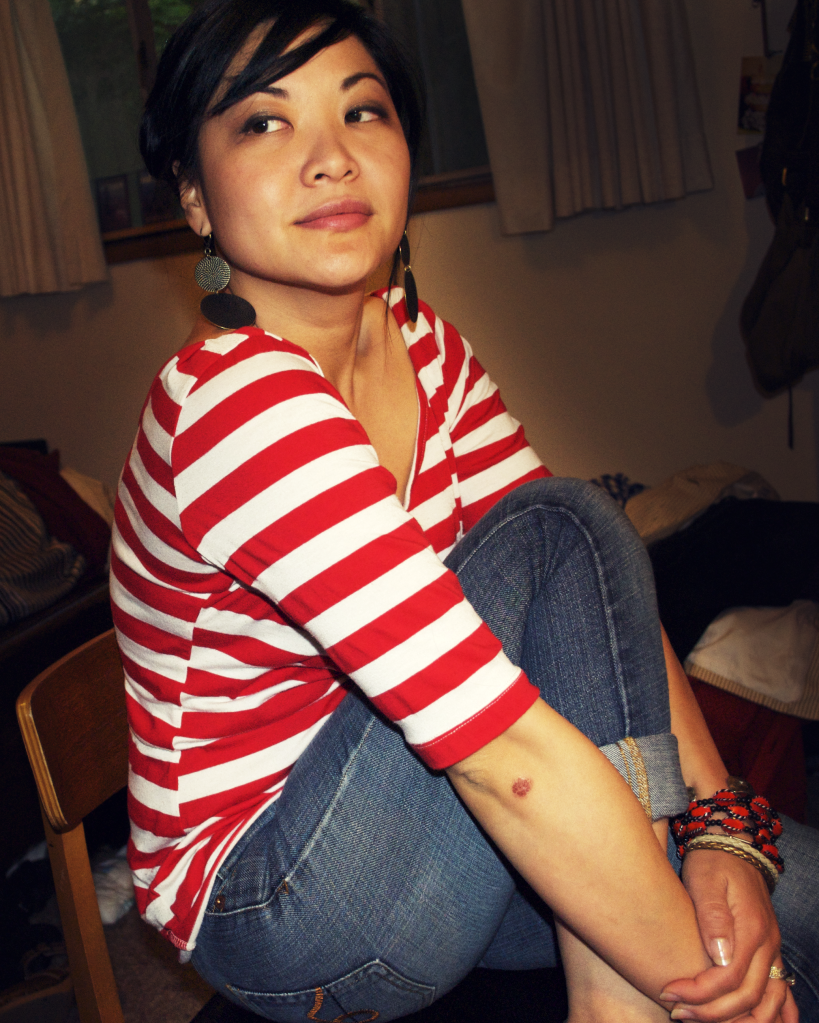 Kind of a long post, thanks for reading this far and hope you're enjoying the day off. I'll leave you with a couple of still photo animations.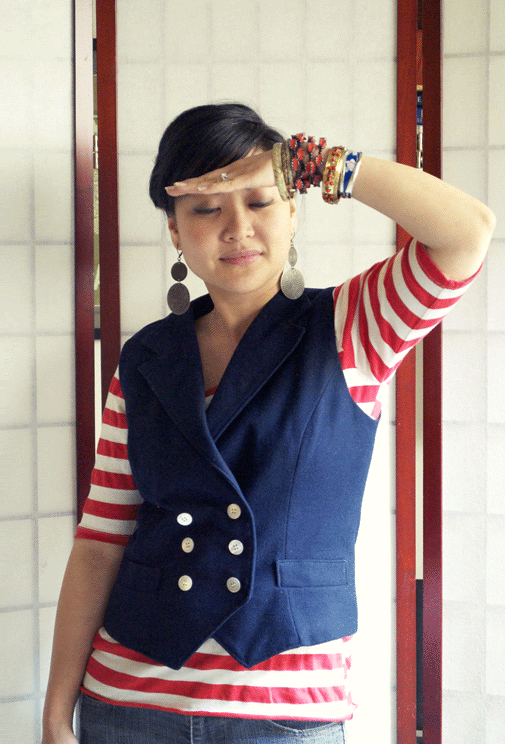 Yes, I got mad robot moves.